Ableton Push 2 Provides Unlimited Control for Live
Ableton Push 2 makes music production with Ableton Live more powerful and intuitive than ever before, and with this Push 2 Live 11 Intro bundle, you'll start making music in no time. The Ableton Push 2 controller offers you a matrix of 64 velocity- and pressure-sensitive pads surrounded by additional control tools that let you transition effortlessly between setting up your session, laying down individual grooves, and putting it all together into a final mix. A highly detailed display lets you browse comfortably and stay on top of parameters, beat slicing, and more, so you never need to look at your computer, and thanks to the expanded possibilities of Ableton Live 11 Intro, making music has never been so much fun.
Hands-on control enhances your music workflow
From the beginning, Ableton Live has been a musical playground that allows artists like you to create fully developed music from scratch, and Live 11 comes loaded with more instruments and production options than ever. Ableton Push 2 puts all of that potential right at your fingertips, allowing you to access the tools you need while keeping you locked into your creative workflow. A high-resolution color display surrounded by touch-sensitive encoders lets you move effortlessly from browsing devices and plug-ins to slicing up beats, tweaking virtual instrument parameters, and more. There's literally no need to look at your computer monitor when you're creating and performing with Ableton Push 2.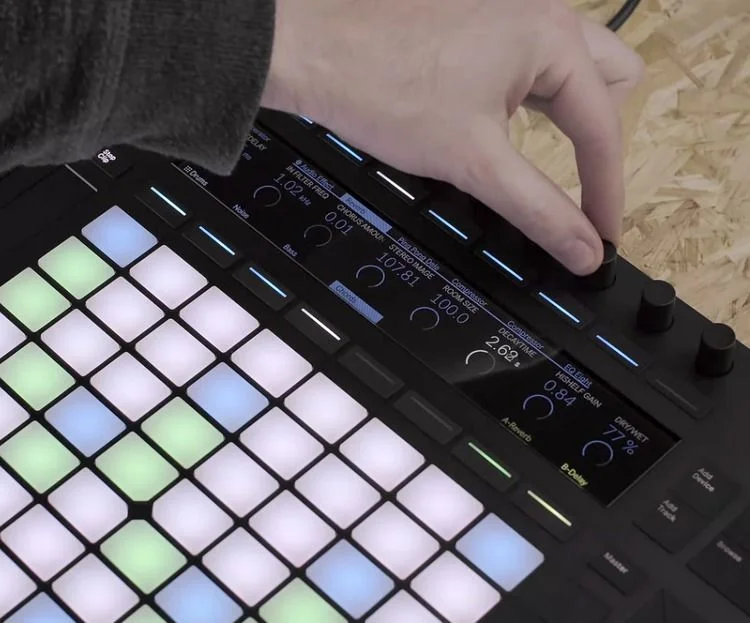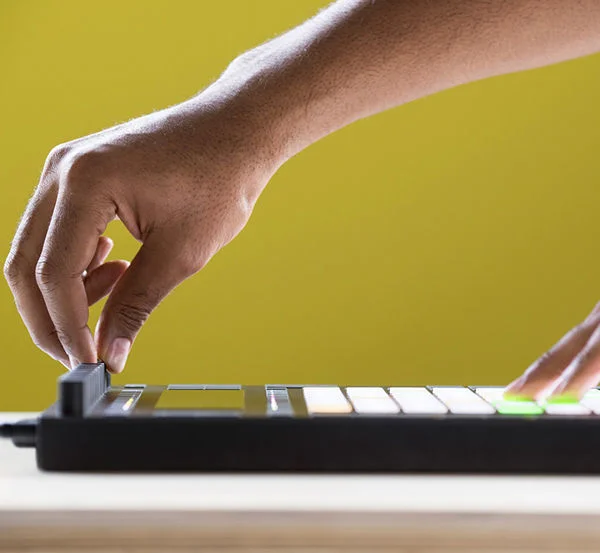 Playable pads make music production easy
For many of us here at Sweetwater who grew up with keyboards, Ableton Push 2 was the pad controller that finally won us over. When it comes to musical expression, this 64-pad matrix has most keyboards beat. You can create swells between individual notes just by applying pressure, and you can bend notes with the touch strip. Multicolor lighting even lets you keep track of key intervals and scales — a real bonus if you're used to a conventional keyboard. This same matrix makes triggering loops for improvised arrangements totally intuitive, and you can't beat these pads when it comes to laying down drum grooves. Best of all, you can switch between performing, developing new beats, and launching loops so quickly that you'll never break your flow.
Sample and slice with total tactile control
Expanded sampling capabilities in Live 11 work seamlessly with Ableton Push 2 to make chopping loops and producing beats easier than ever. For starters, sampling in new beats is a totally streamlined process, and once you've captured your material, slicing loops across the pads and creating new beats is a piece of cake. The full-color display lets you zoom in on specific details, and the conveniently positioned encoders make tweaking slices and warping samples intuitive. This makes Ableton Push 2 the perfect companion to the overhauled Simpler sample engine in Ableton Live 11.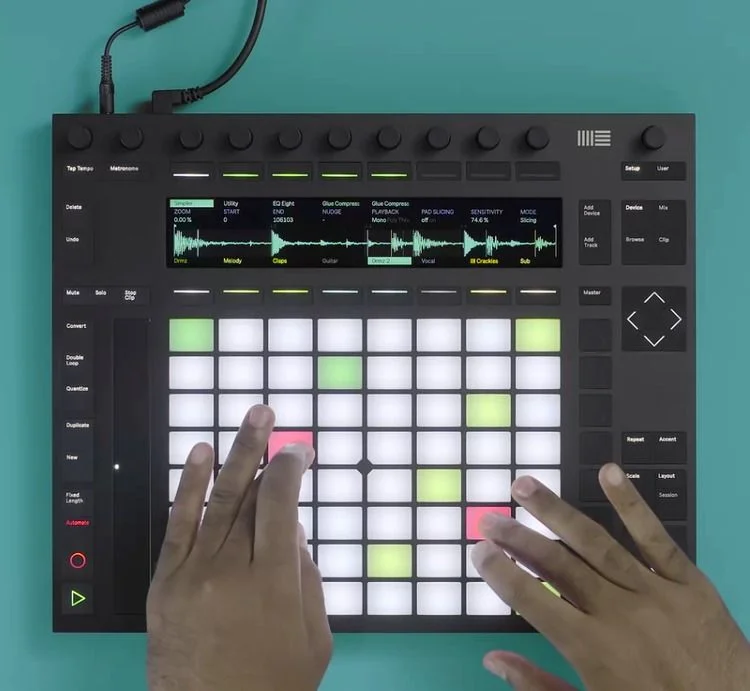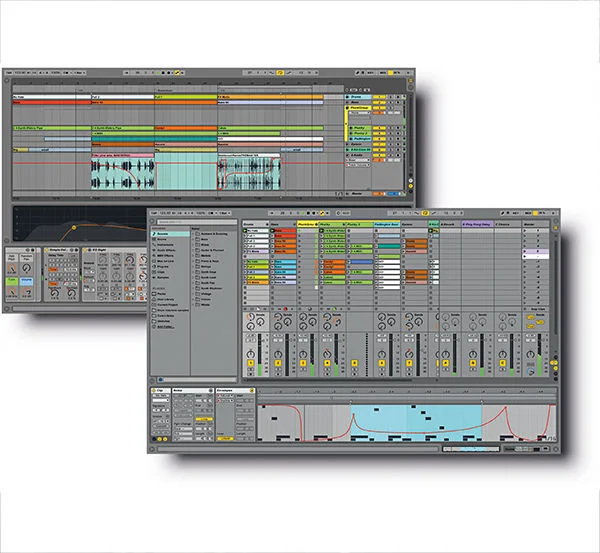 Start out strong with Ableton Live 11 Intro
Get into music production and computer-based live performance with Ableton Live 11 Intro. This streamlined version of Ableton Live 11 is an excellent and affordable option for electronic musicians, songwriters, and creative recording engineers. Its combination non-linear Arrangement View makes it easy to play with ideas and build your songs in sections, while the more traditional Session View lets you record multi-track audio in up to 32-bit/192kHz resolution. Top it off with an extensive collection of sounds, effects, and processors, and Ableton Live 11 is far from a mere entry-level DAW. What's more, it's a great way to discover the power of Ableton Push 2.
Ableton Push 2 with Live 11 Intro Features:
The ultimate controller for Ableton Live and a perfect companion to Live 11
High-res color screen provides detailed visual feedback and waveform display
Touch-sensitive encoders and additional controls provide complete access to Live
64-pad matrix for playing instruments, slicing beats, improvising with loops, and more
Velocity-/pressure-sensitive pads play like a sophisticated musical instrument
Select scales and see important integers directly on the pad matrix
2 footswitch inputs give you even more control options
Runs on USB power with optional external power for added illumination
Includes power supply, USB cable, and a full version of Live 11 Intro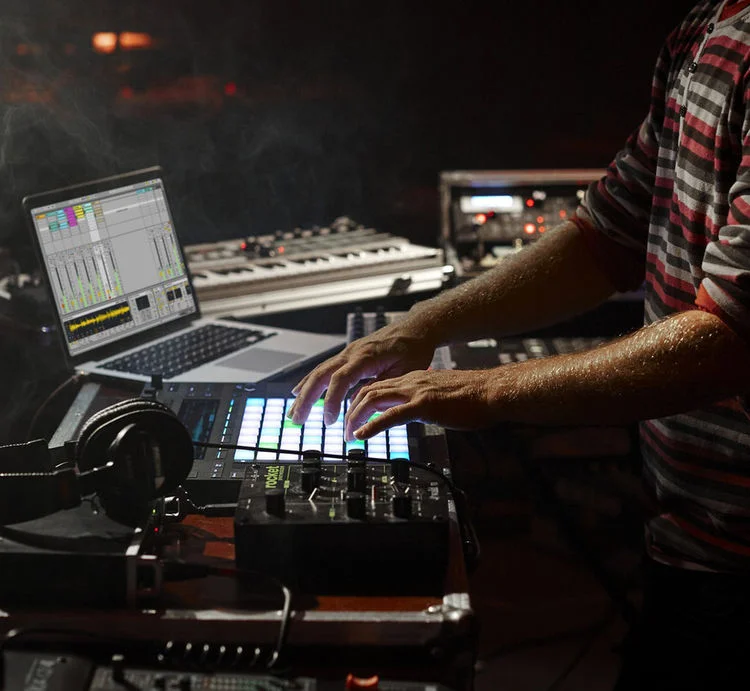 Tech Specs
Type:

Ableton Live Performance Controller

Pads:

64 x Pressure-sensitive Pads

Velocity Sensitive:

Yes

Other Controllers:

Touch strip – pitch bend, scrolling

Encoders/Pots:

8 Touch-sensitive controls

Pedal Inputs:

2 x 1/4″ (sustain, loop control, record start)

MIDI I/O:

USB

USB:

1 x Type-B

Software:

Ableton Live 10 Intro

Hardware Requirements – Mac:

Intel Core 2 Duo or higher, 4GB RAM minimum

Hardware Requirements – PC:

AMD Multi-core Processor or higher, 4GB RAM minimum

OS Requirements – Mac:

OS X 10.11.6 or later

OS Requirements – PC:

Windows 7 or later

Power Supply:

12V Power supply (included) / USB bus power

Height:

1.65″

Width:

14.88″

Depth:

11.96″

Weight:

6.0 lbs.

Manufacturer Part Number:

87565