KeyLab Essential 61
Creativity Reinvented
With everything you need to express your musical ideas, take command of your studio, and perform like you've always dreamed, KeyLab Essential is an intuitive, powerful, carefully crafted controller keyboard that's easy to master.
Creating music in the digital world is sometimes a little challenging. So many distractions, so many new things to learn. KeyLab Essential lets you focus on what's important…
Music is at the heart of this controller. Every aspect of KeyLab Essential has been carefully chosen to give you the best possible experience when creating and performing. From the responsive keyboard to the intelligently assigned knobs and faders, you'll feel like everything you touch turns to gold.
KeyLab Essential makes navigating your track a breeze thanks to the dedicated DAW Command Center, and makes browsing your presets an exciting, inspiring experience.
KeyLab Essential helps you keep your eye on the target. Spend less time with a keyboard and mouse, and more time creating, performing, and playing.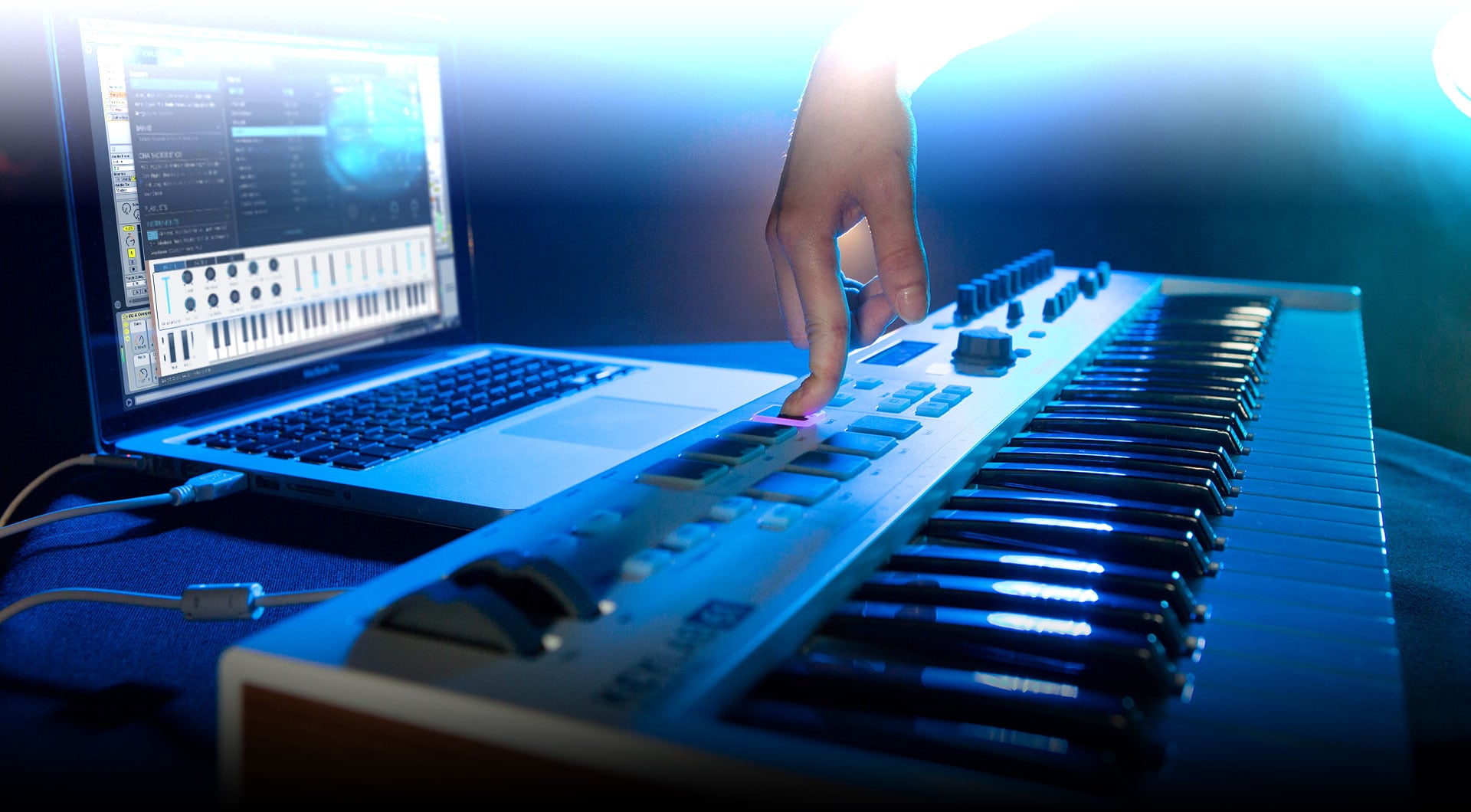 Make music your way
Never been fan of menu excavations and setting headaches? We think the same. That's why we've created KeyLab Essential: to make the technical stuff as simple as possible.
It's easy to let your concentration drift and your inspiration slip when you spend hours on tedious tasks. KeyLab Essential is the result of careful research, with the aim of streamlining your creative process, giving you more time to express yourself through music.
With the KeyLab Essential on your desk and its comprehensive set of music software loaded in your computer, the only required step to start experimenting, composing and recording is sitting in front of them.
Once you've experienced the creative workflow of KeyLab Essential, you'll wonder how you ever made music without it.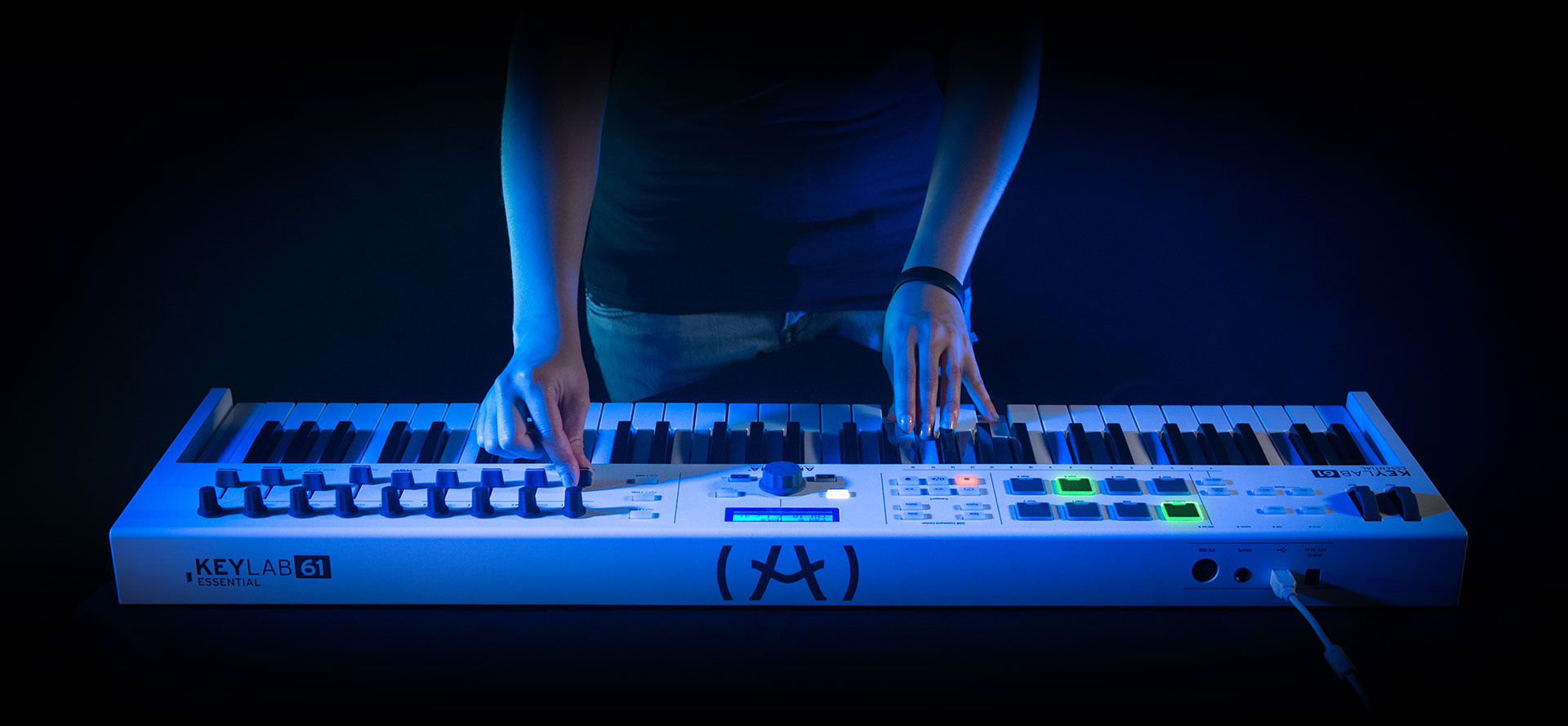 In tune
with your studio
Geared for maximum compatibility, KeyLab Essential gives you unadulterated control of your digital world, seamlessly integrating with virtual instruments and DAW software.
KeyLab Essential is packed with clever controls that help you make swift work of everyday tasks within your recording software. Play your track, jog forwards and back, save, toggle your metronome and loop, record, and punch in on the fly. This functionality keeps your hands on the controller and your mind in the music.
As well as offering ultimate integration with Analog Lab, KeyLab Essential is a universal MIDI controller, compatible with any third-party instruments or software.
KeyLab Essential also comes with Ableton Live Lite so you can start recording, editing, and releasing your music with one of the most popular music platforms on the planet.
Whether you're a total newcomer to the world of recording, or a seasoned pro who's set in their ways, KeyLab Essential has the potential to revolutionize your creative process.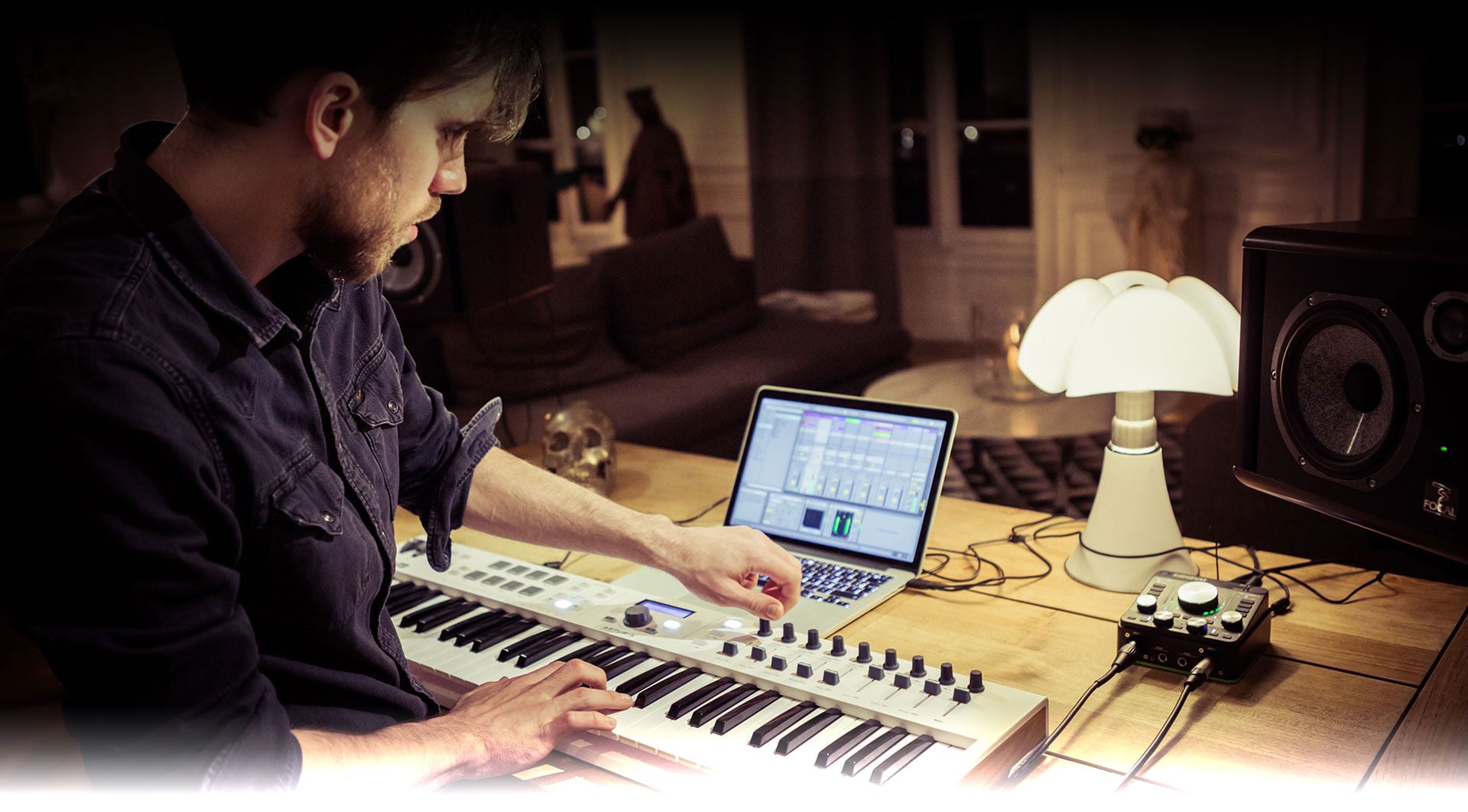 A world of sound
A complete keyboard production studio, KeyLab Essential comes with some incredible software titles.
Whether you want a searing-hot synth lead or an ethereal string pad, a vintage upright piano or a complex, animated soundscape, KeyLab Essential gives you everything you need to perform and record. All the ingredients of the cocktail are there and ready to be mixed according to your own style.
AnalogLab Intro
Your very own vintage keyboard collection
Analog Lab Lite gives you instant access to hundreds of stunning sounds from our award-winning software instrument catalogue. Featuring 17 iconic instruments from V Collection, including analog synths, revolutionary digital workstations, organs, string machines and pianos, all beautifully recreated using Arturia's innovative True Analog Emulation® technology.
An introduction to one of the most intuitive, popular production platforms around
New users and seasoned pros alike love working with Ableton Live Lite. Featuring an innovative twin workflow, time stretching and pitch shifting functions, as well as numerous studio-quality effects and sounds, you'll be crafting slick pro-grade tracks in no time.
An essential instrument for any songwriter's sound palette
Steinway pianos are found in only the very best concert halls and recording studios. Thanks to Keylab Essential, you can have one in your own home. The UVI Model D puts the sound of the famous Steinway Model D grand piano at your fingertips, sampled in exquisite detail, and ready to play.