Description
Natural Acoustic Tone Through Any System
BOSS's AD-2 Acoustic Preamp pedal is a convenient and easy way to elicit natural and woody tones from your acoustic-electric instrument's pickup system, whether performing live or recording. Just turn the Acoustic Resonance control to your desired level, and you'll hear an increase in warmth and depth that many pickup systems often can't produce on their own. Controls for Ambiance and Notch add reverb and cut problem-feedback respectively. And the AD-2 even boasts line- and instrument-level outputs for whatever amplification method you choose.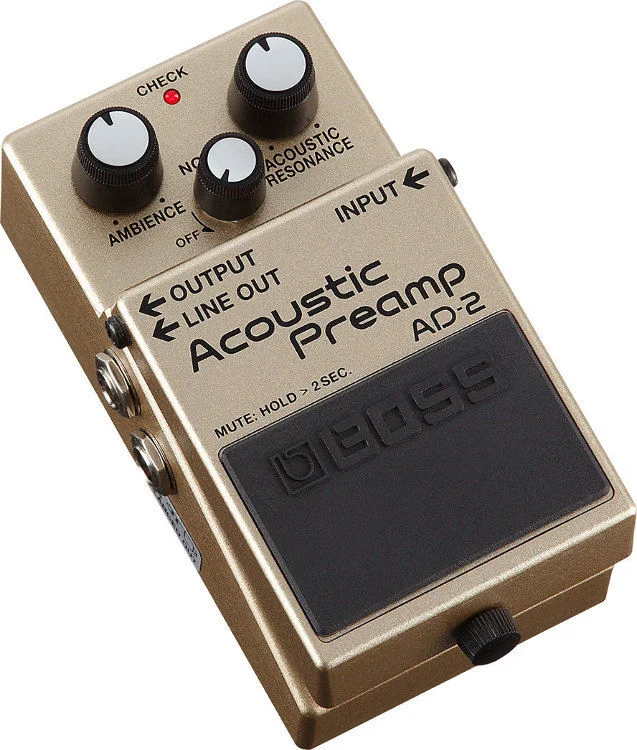 Natural acoustic tones from your pickup
The BOSS AD-2 Acoustic Preamp pedal easily does away with the quacky tone and harsh response of many acoustic-electric pickup systems. As you turn the Acoustic Resonance control you'll hear BOSS's advanced digital processing go to work, analyzing your guitar's input signal and responding the way an un-amplified acoustic guitar would. Far from a simple pre-programmed EQ, BOSS explains that the Resonance control "adjusts multiple parameters inside the AD-2 to achieve the perfect tonal balance for any style, from delicate fingerpicking to intense strumming."
Powerful and simple feedback buster
Everyone at Sweetwater knows that controlling feedback is a must for any acoustic-electric performer. BOSS took that into careful consideration when designing the AD-2. You'll find a handy knob labeled Notch on the face of the pedal that is just as simple to use as the pedal's Resonance feature. Just start playing. When feedback begins to rear its ugly head, simply turn the Notch control until it disappears. It couldn't be easier, and it couldn't be more effective.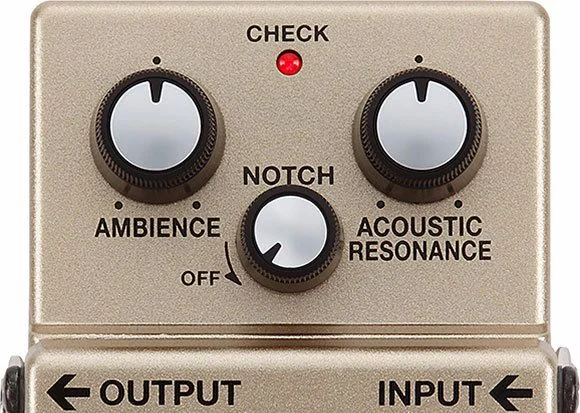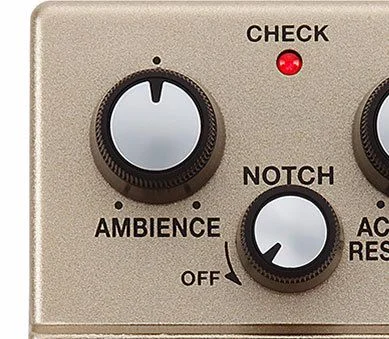 Add Ambiance for depth and dimension
Another important consideration for acoustic performers is the ability to introduce the sound and feeling of space into their instrument's tone. The AD-2 has that covered as well. And like every aspect of the pedal, it's a quick twist of a knob. The Ambiance control injects studio-quality reverb into your signal, removing the direct and lifeless-feeling that plugging in direct can sometimes elicit. And the reverb has been carefully voiced to never cloud your original tone.
Works direct or to your amp
One of the most powerful features of BOSS's AD-2 Acoustic Preamp pedal is its ability to work as flawlessly running into an onstage acoustic amplifier as it does direct to the soundboard for performing or recording. The instrument-level output acts just like any other effect pedal, sending your processed signal to an instrument amplifier. Or you can utilize the 1/4″ TRS line-level output for routing your sound direct to the board at full power. Either way, the BOSS AD-2 Acoustic Preamp pedal has you covered.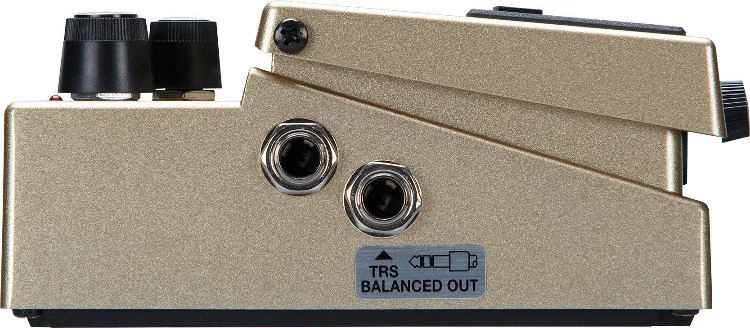 BOSS AD-2 Acoustic Preamp Pedal Features:
Pedalboard-friendly acoustic-electric instrument preamp pedal
Acoustic Resonance control adds a perfectly EQ'd warmth to your tone
The Notch feature quickly and easily dials out problem feedback
Ambiance adds a natural reverb into the signal
Instrument- and Line-level outputs
Rugged BOSS construction
Compact dimensions fits easily on pedalboards
Onboard mute