New Sounds and Stereo Linking Come to the BOSS Katana-100 MkII
The BOSS Katana-100 MkII is the latest installation in BOSS's esteemed line of Katana series amplifiers. And whether you're interested in accessing its pummeling 100-watt output section and platform-perfect 12-inch speaker to amplify your existing modelers and preamps, or in building your dream tones from the ground up to create the ultimate all-in-one gig and practice solution, take it from Sweetwater — the BOSS Katana-100 MkII is a powerful tool in the hands of any electric or acoustic player. Cab-emulated outputs and monitoring make the BOSS Katana-100 MkII a truly silent stage and studio guitar solution, while multichannel footswitch support provides hands-free remote access to every sound in your arsenal. New amp variations and access to 60 timeless BOSS effects within the BOSS Tone Studio editor make the 100 MkII a tone tweaker's holiday. There's even single-cable stereo operation for running dual Katanas from the stage — the perfect way to fill space in a single-guitar outfit.
The BOSS Katana MkII series
With five distinct amp characters to choose from, support for acoustic-electric guitars, and access to a wide range of customizable effects, the BOSS Katana MkII series represents a new generation of flexible amplifiers for practice and performance. Familiar controls allow for fast tone shaping, and you can use the BOSS Tone Studio editor software to further customize your amp settings and effects. The BOSS Katana-100 MkII is also equipped with an adjustable Power Control that allows you to achieve cranked-amp tone at lower volume levels. For a does-it-all amplifier for electric and acoustic-electric guitar, you definitely need to check out the BOSS Katana-100 MkII combo amp from Sweetwater.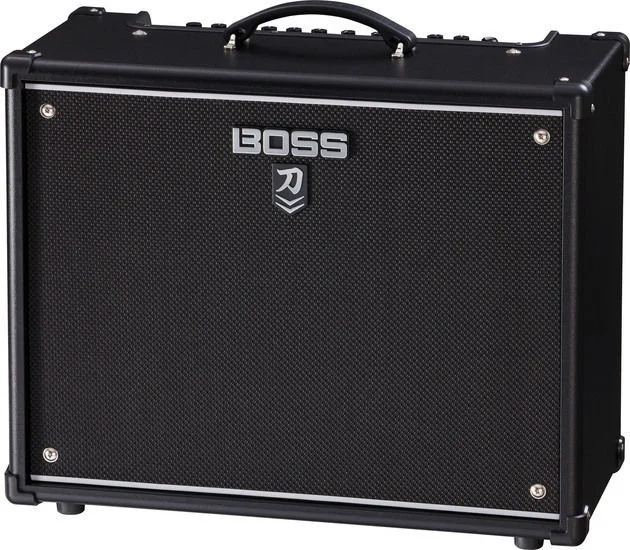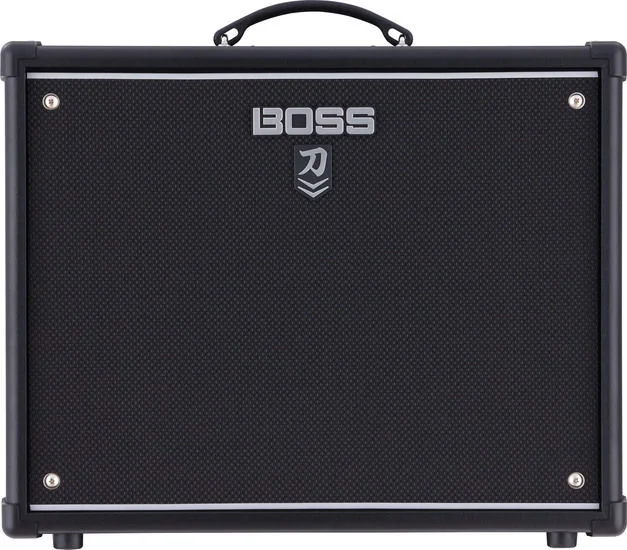 What's new in the BOSS Katana-100 MkII
Here's a quick list of the hottest features in your second-gen BOSS Katana-100 combo amplifier:
Power Amp In(put) — Got a floor unit or tube preamp you can't live without? You can access all 100 watts of the Katana's Class AB power section using the MkII's power amp input. Here you bypass everything before the power amp and speakers, so what you hear is exactly what you expect — only live and in living color.
Stereo Expand — You can fill every side of a stage with breathtaking stereo effects using the Katana's built-in Stereo Expand link. Simple primary/secondary operation by way of a single guitar cable makes setup a breeze. In this mode, you can access choruses that envelop the listener in a swath of oceany motion, delays that ping-pong from ear to ear, and reverbs that descend like a cloud upon a room.
New amp models — The classics you love are back in full effect in the Katana MkII. Only now, you can access new variations on the original five amp models to create an even more versatile gigging platform, from country cleans to metal gains to acoustic-voiced amplification.
Updated BOSS Tone Studio — Customizing your sound within the Katana MkII is easier than ever using the new and improved BOSS Tone Studio software; 60 BOSS effects, channel-by-channel EQs, adjustable routing, and much more await your every command.
Ready for any style of music, even acoustic-electric
The BOSS Katana-100 MkII packs five distinct amp voicings. Clean, Crunch, and Lead cover the range from chiming clean tones and gritty rhythm tones to solo-worthy high-gain leads. As an added bonus, the Brown setting is derived from the BOSS Waza amplifier — think iconic '80s metal. And finally, the Acoustic mode allows you to plug in your acoustic-electric guitar, too. No matter what style of music you play or even what kind of guitar you play, there's a world of tone to explore in the BOSS Katana-100 MkII combo amplifier.
Cab-emulated outputs for silent recording and performance
While the BOSS Katana-100 MkII offers a Power Control for getting cranked-amp tone at a low volume level, you can achieve truly silent operation onstage or in the studio by connecting the amp's line output to a line input on your recording device or a PA, completely bypassing the speaker. Cab emulation is available on the USB and headphone outputs, as well, so however you choose to monitor your BOSS Katana-100 MkII, it'll feel like you're standing in front of an amp. Selectable cab resonance (Vintage/Modern/Deep) and Air Feel miking emulation (direct, distant, or blended) allow you to tailor emulated tones to taste.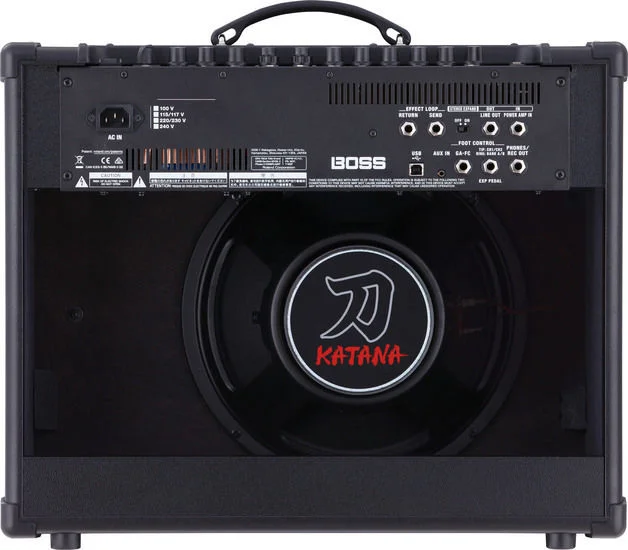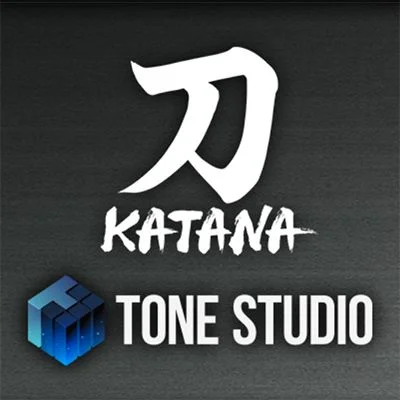 Powered by the NEW BOSS Tone Studio
The BOSS Katana-100 MkII supports 60 timeless BOSS effects, and you can load an entire series of them for instant access. The amp's Booster/Mod, FX/Delay, and Reverb controls give you easy one-knob access to each effects type, with a color-coded button to switch between preset effects. To completely customize your effects and amp settings, connect the BOSS Katana-100 MkII to your computer via USB and load up the Tone Studio software. Create your own setup, or download setups created by pro guitarists at the BOSS Tone Studio website. Best of all, the BOSS Katana-100 MkII can store multiple custom amp and effects profiles for instant recall, making this combo a versatile multichannel amplifier.

BOSS Katana-100 MkII Combo Guitar Amplifier Features:
Versatile combo amp with 5 amp voicings, customizable effects, and editor software
Amp characters include Clean, Crunch, Lead, Brown (derived from the BOSS Waza amp), and Acoustic (for acoustic-electric guitar)
60 timeless BOSS effects, accessible from the BOSS Tone Studio
Variable Power Control allows you to achieve cranked-amp tone at lower volume levels
Shape your tone quickly with dedicated Gain, EQ, and Effects controls
Use the BOSS Tone Studio editor software to customize your effects and amp settings
Effects loop allows you to add effects pedals after the preamp section
Power Amp In brings uncolored amplification to your external modelers and preamps
Stereo Expand switch for single-cable stereo operation across 2 Katanas
Full GA-FC foot controller support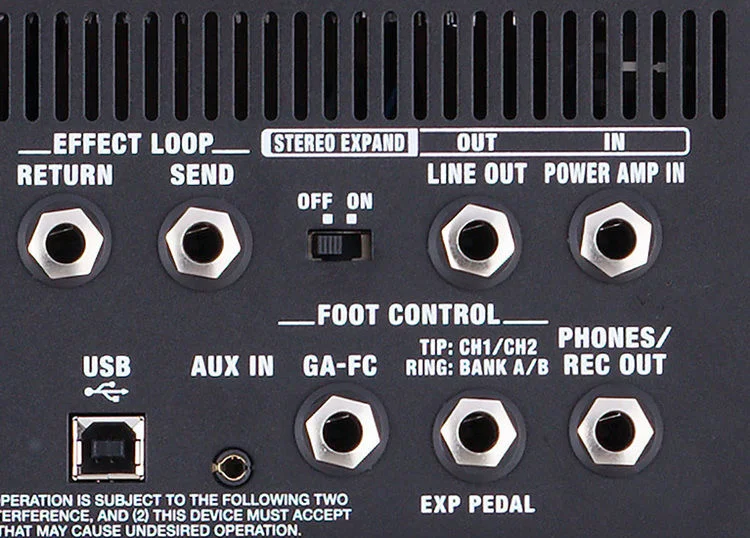 Tech Specs
Type:

Solid State

Number of Channels:

5 x Amp Types

Total Power:

100W (50W, 0.5W settings)

Speaker Size:

1 x 12″

Reverb:

Yes

Effects:

Modulation, Delay, 60 Boss Effects (Tone Studio software)

EQ:

3-band EQ

Inputs:

1 x 1/4″ (instrument), 1 x 1/4″ (power amp), 1 x 1/8″ (aux)

Outputs:

1 x 1/4″ (line), 1 x 1/4″ (rec/headphones)

Effects Loop:

Yes

USB:

1 x Type B

Headphones:

Yes

Footswitch I/O:

1 x 1/4″ (solo), 1 x 1/4″ (expression), GA-FC controller support

Footswitch Included:

No

Computer Connectivity:

USB

Construction Material:

Black Tolex Open-back Cabinet

Power Source:

Standard IEC AC cable

Height:

17.5″

Width:

20.8″

Depth:

9.8″

Weight:

32.6 lbs.

Manufacturer Part Number:

KTN-100-2