Vintage-style Les Paul with Worn-in Finish
You don't need to hit up every pawn shop in town to find a solidbody electric guitar with killer vintage vibe. Thanks to its eye-grabbing worn-in finish and tried-and-true construction, the Epiphone Les Paul Classic Worn delivers the look, tone, and style you're searching for. A maple-topped mahogany body exhibits the resonant warmth and articulate snap that you've heard on countless classic recordings, while a SlimTaper C-shaped neck supplies amazing comfort and playability. The Les Paul Classic Worn is chock-full of stadium-sized tones, thanks to its Alnico Classic PRO humbuckers, which can be coil-split for spanky single-coil textures. Benefit from excellent tuning stability, courtesy of Grover Rotomatic 18:1-ratio tuners, while a LockTone ABR bridge and stopbar tailpiece give you heavenly sustain. The Epiphone Les Paul Classic Worn is a cost-effective way to own one of the most popular electric guitars on the planet.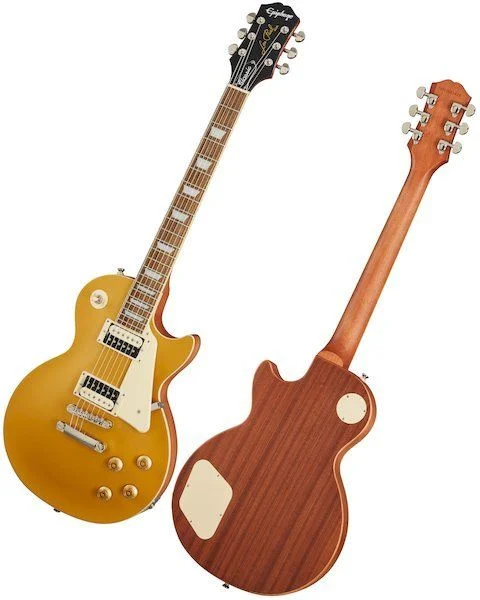 Tried-and-true woods for killer tone
The Epiphone Les Paul Classic Worn's body woods present a combination of clarity, definition, and treble bite from the maple and excellent depth and richness from the mahogany. Its set-in mahogany neck and Indian laurel fingerboard further enhance this solidbody electric guitar's tone. You'll love the full-range sound, tonality, and playability of the Epiphone Les Paul Classic Worn.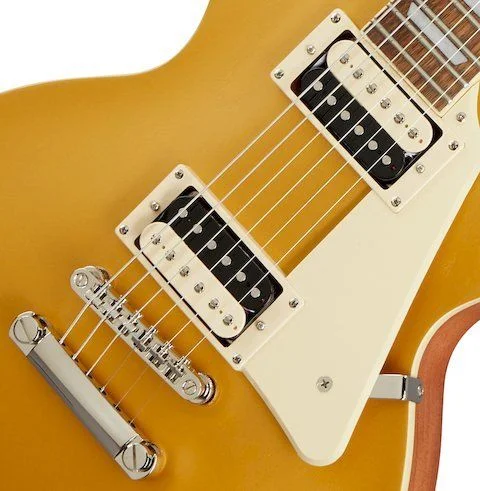 Alnico Classic PRO pickups yield fat, smoking humbucker tones
The Epiphone Les Paul Classic Worn packs humbucking power. When you really want to cook on a solo or deliver some thunderous power chords, you reach for a guitar that has a pair of humbuckers, right? Forget all those thin out-of-phase guitar sounds that session players overused in the 1980s and (sad to say) right through much of the '90s. That's not for you. Your sound is all about the warmth, punch, and midrange complexity you can only get from a pair of humbuckers, and the Les Paul Classic Worn comes with a pair of Alnico Classic PRO humbuckers. You get uncompromising power whether you're playing rhythm or digging into a solo. Beyond that, the Les Paul Classic Worn includes coil-splitting, which adds a whole universe of single-coil sounds to your tonal repertoire.
SlimTaper neck profile — a players' favorite
Players worldwide appreciate Epiphone's SlimTaper neck profile for its fast and smooth playability. Sporting a SlimTaper C-shape, the Les Paul Classic Worn's neck fills your hand nicely, yet it's thinner than a '50s-style neck. The guitarists at Sweetwater appreciate how this neck stays out of the way of your fast lead playing, while still being substantial enough for comfortable rhythm playing.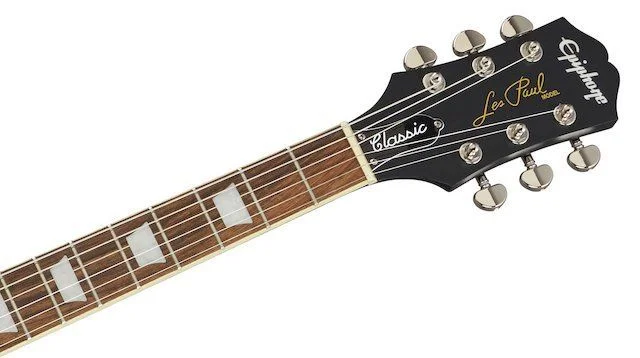 Epiphone Les Paul Classic Worn Features:
Vintage-style solidbody electric guitar with eye-grabbing worn-in finish
Maple-over-mahogany construction yields a tried-and-true rock 'n' roll tone
SlimTaper C-shaped neck fills your hand, yet stays out of your way
Easy-playing 22-fret Indian laurel fingerboard
Alnico Classic PRO humbuckers deliver warmth, punch, and midrange complexity
Coil-splitting supplies a whole universe of single-coil sounds
Grover Rotomatic 18:1-ratio tuners ensure excellent tuning stability
LockTone ABR bridge and stopbar tailpiece enhance your sustain