Classic Worn Rock 'n' Roll Icon
Inspired by classic Gibson designs, the SG Classic Worn takes an iconic design, hits it with some vintage vibe, and includes modern appointments for rock-solid performance. The distinctive SG body shape is highlighted by a stunning "worn" open grain finish that is as visually rich as the guitar is sonically rich. Just like the original SGs, the Classic Worn features an all-mahogany body that infuses the guitar's tone with depth and warmth. The supremely comfortable SlimTaper mahogany neck is capped in Indian laurel, and faux-ivory tuning knobs punctuate the SG Classic Worn's old-school look. This stunner is stocked with a set of P-90 PRO single-coil pickups. Based on original Gibson designs, the P-90 PROs are detailed, responsive, and full of attitude. Lay your hands on this sharp-dressed, rock 'n' roll tone machine .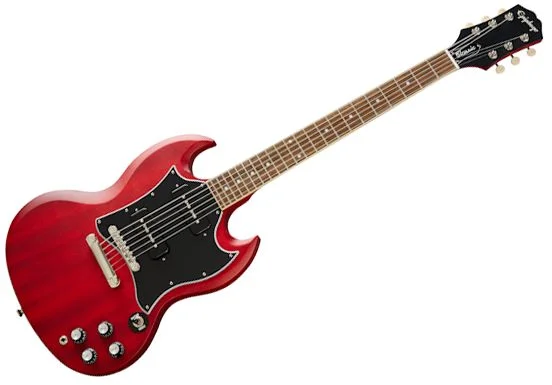 Legendary guitar with a distinctive design
It's hard to believe, but in 1961, Gibson discontinued the original Les Paul guitar and replaced it with the SG, which originally bore the Les Paul name. But Les himself wasn't a fan of that, so the guitar was renamed SG, which stood for… solid guitar! A few years later, Gibson started making the original Les Pauls again, but the SG proved so popular that they continued producing them. The reason is easy to understand. It has a distinctive look and delivers a classic sound with all the thick, fat tone you could ever want. Though it's often thought of as the archetypal rock guitar, the SG has been used across all genres of music, from jazz to fusion, metal, prog, and beyond.
Balanced tone has warmth, depth, and detail
The Epiphone SG Classic Worn's all-mahogany body has a rich and warm resonance with incredible depth, which belies the comfortable weight of the SG. From there, the SlimTaper mahogany neck extends the sonic depth of the guitar, and it's capped with an Indian laurel fingerboard that spices up the mix with brilliant highs and vibrant overtones.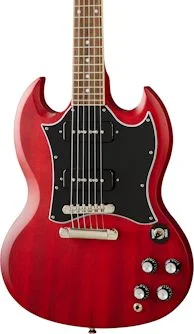 Vintage-inspired P-90 PRO pickups
Created with the same emphasis on quality as the Epiphone's renowned ProBucker humbucking pickups, the P-90 PRO pickup is an ultra-sensitive single-coil design that responds to a player's every nuance, opening up the possibility for heightened expressiveness. Manufactured according to historic dimensions, the P-90 PRO pickup employs Alnico V magnets, Gibson spec'd pole shoes, and tin-plated base plates for some serious old-school vibe.
Epiphone SG Classic Worn Electric Guitar Features:
Instantly recognizable, iconic rock 'n' roll guitar
Striking "worn" open-grain finish
Warm and resonant all-mahogany body
Comfortable and quick mahogany SlimTaper D-profile neck
Gorgeous Indian laurel fingerboard with vibrant overtones
Vintage-inspired P-90 PRO single-coil soapbar pickups
Rock-solid tuning stability with stopbar tailpiece, LockTone ABR bridge, and Epiphone Deluxe tuners with ivory buttons