Description
The American Performer Series P Bass
A modern expression of the solidbody electric bass that started it all, Fender's American Performer Precision Bass delivers the latest in US-made quality and value. A comfortable, ultra-fast modern C-shaped maple neck and lightweight, contoured alder body make the American Performer Precision Bass addictively playable. And it's equipped with Fender's powerful, punchy Yosemite P/J pickups and their amazing Greasebucket tone circuit that lets you roll off the highs without sacrificing volume or low-end grunt. Finished in one of Fender's flashy new colors, the American Performer Precision Bass looks as good as it sounds.
Lay down the groove with a modern classic
For their American Performer Series basses, Fender went back to the drawing board with cool new colors, their renowned Greasebucket tone circuit, and a calibrated, shellac-dipped Yosemite single-coil pickup set that cranks out legendary Fender tone by the truckload. There's never been a better time to get into a genuine, American-made Fender bass. Sweetwater's advice: pick up an American Performer Series bass and lay down the groove with a modern classic.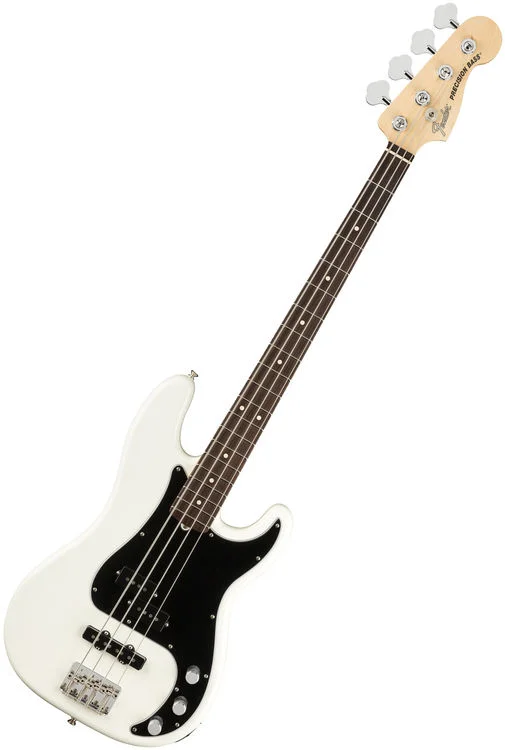 Versatile P/J pickup configuration
Whether you're recording direct in the studio or plugged into a massive tube amp stack onstage, enough can't be said about the usefulness of playing a bass with both Precision and Jazz Bass pickups. There's nothing like the fat, punchy sound of a P Bass split single-coil pickup. It sits in a track like nobody's business. And being able to dial in the perfect amount of Jaco-style J Bass growl is nothing short of tonal nirvana. It's really the best of both worlds.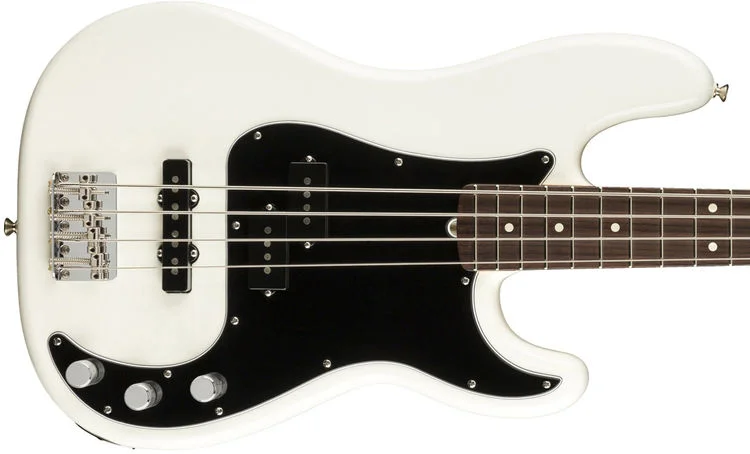 Timeless P Bass design
Leo Fender brought us the Precision Bass back in the 1950s, and its classic body shape and comfortable neck continue to give today's American Performer Series version excellent playability and a distinctive look. To say the P Bass is an industry standard is not an exaggeration: In the '60s and '70s, electric bass parts on session charts used to simply be labeled "Fender" — and that meant Precision. Motown even standardized on the Precision Bass for all their recording sessions. From James Jamerson to Pino Palladino, bassists from all genres have embraced the Precision Bass, and it continues to be a favorite in the studio and on stages everywhere. As with so many of Fender's original designs, Leo nailed the essence of a great instrument right from the start. And over a half century later, the American Performer Series Precision Bass still sets the standard.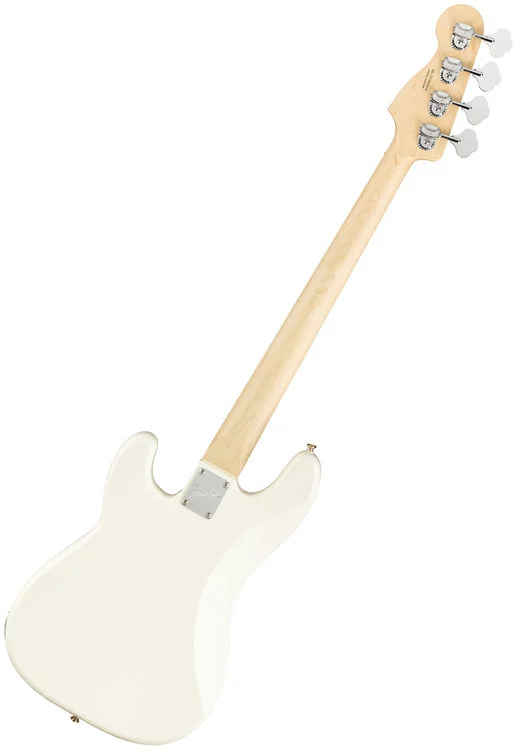 Fender American Performer Precision Bass Features:
Alder body with classic P Bass contours and satin polyurethane finish
Comfortable modern C-shaped maple neck with satin polyurethane finish
Calibrated, shellac-dipped Yosemite single-coil pickup set with flat-staggered pole pieces
Middle: Yosemite P Bass split single-coil (Alnico 5, 12K)
Bridge: Yosemite Jazz Bass single-coil (Alnico 5, 7.3K)
Middle pickup volume control
Bridge pickup volume control
Master tone control
Fender's Greasebucket master tone circuit rolls off highs without reducing gain
4-saddle vintage-style bridge with steel saddles
Lightweight vintage-style tuners with tapered shafts
Single-action truss rod with neck heel access
1.625″ synthetic bone nut
Nickel/chrome hardware
Quality crafted in America