Description
2-channel Modeling Amp with 100 Watts and Twin 12″ Celestion Speakers
There's even more to love about Fender's Champ XL series in the fully loaded Champion 100 XL. This fearsome 40-pounder delivers 100 watts of hot-blooded stage fuel through its sophisticated 2″ x 12″ speaker system and fully independent 2-channel footswitchable architecture. Its solid state front end speaks with Blackface authority, with plenty of cluck, weight, and sparkle to evoke chunky rhythms and sweet, singing leads. Each channel's 8-stop Voice control takes you on a guided tour through classic American cleans to modern British high gain and beyond. A streamlined FX selector — also channel independent — sweetens amp tones with a host of A-class time and modulation effects; there are even tap switches for delays. The icing on the cake are the Champion 100 XL's specially voiced Celestion 12″ speakers, which deliver the kind of attack, dynamics, and low end that'll make you swear you're playing a classic Fender. An included 2-button footswitch supplies access to clean and lead channels from across the stage.
Two independent channels
Classic Fender cleans and wide range of modern gain options are just a footswitch away in the 2-channel Champion 100 XL. Whether you push it with pedals or just plug in and crank up, this amp speaks with real-deal Fender authority — all at a fraction of the weight and cost of your favorite tube amp.
8-way Voice switch
Each channel on the Champion 100 XL boasts four amp voicings and four complementary effects to get you in the ballpark of virtually any style of music, from blues and country to modern rock and metal. There are no menus and model names to decipher — just turn counterclockwise for less gain and clockwise for more. Even well into high-gain territory, the 100 XL retains its top-end clarity and low-end punch, so you can really crank up for those leads or show out for that solo.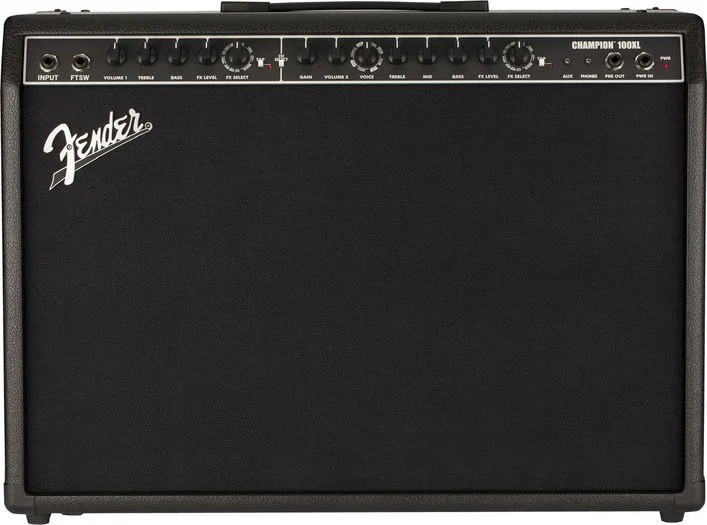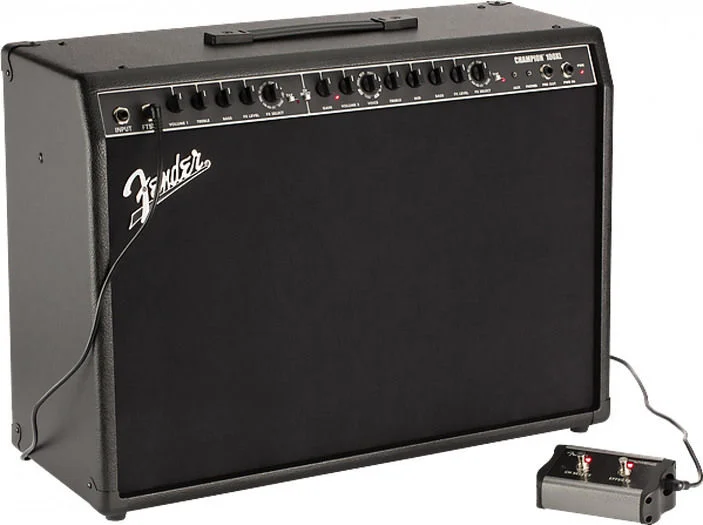 Streamlined channel FX
The Champion 100 XL's FX Select dials are where tones really begin to come alive. Slather your solos in lush reverb and delay and kiss your cleans with a touch of Fender-inspired chorus or tremolo. An FX Level control for each channel lets you blend in just the right amount of wet and dry signals. Tap tempo buttons are provided, which makes it easy to lock in repeats to suit the tempo of any song, a feature guitarists at Sweetwater really appreciate.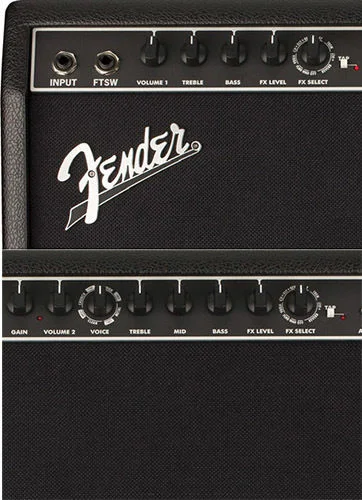 Specially voiced Celestion speakers
Among the Champion 100 XL's standout features are its specially voiced 12″ Celestion Midnight 60 speakers. Loaded in its 3/4″ MDF cabinet, these speakers have real weight and move real air to really get your guitar gears in motion. Through a mic or out into a room, the Champion 100 XL's sophistication is sure to surprise even veteran players. Order yours today and leave your tube combo at home.
Fender Champion 100 XL Combo Guitar Amplifier Features:
100 real-deal Fender watts at just 40 lbs.
Two independent footswitchable channels
Blackface-inspired front end — takes pedals well
8-way Voice switch — captures a wide range of American and British tones
Onboard FX selectors with tap tempos and wet/dry controls
12″ Celestion Midnight 60 speakers sound great, miked or live
3/4″ MDF cabinet delivers big bass
Includes a 2-button footswitch for channels and FX