The Player Series J Bass
First introduced in 1960, the Fender Jazz Bass has withstood the test of time to become one of the most played and recorded instruments here at Distingo Music Store — and in modern music history! The Fender Player Series Jazz Bass celebrates this heritage with upgrades that working musicians will appreciate. With its offset alder body and fast-action maple neck, this J Bass is incredibly comfortable to play and lets you pull off extremely tight runs and grooves with ease. It also delivers the legendary J Bass punch and growl, courtesy of two Player Series Alnico 5 single-coil pickups. Get your groove on with the Fender Player Series Jazz Bass.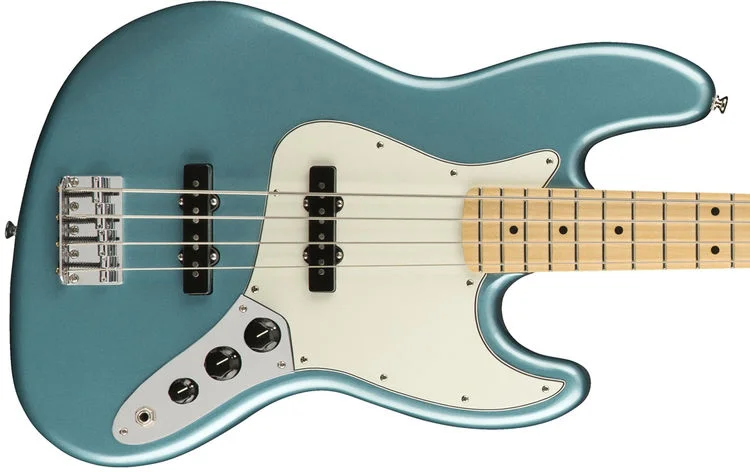 Fender's Player Series: vintage vibe, modern edge
For their new Player Series basses, Fender went back to the drawing board with updated radii for more historically accurate body shapes, new vintage-inspired finishes, and a classic logo that harkens back to the Fenders of yesteryear. But these smooth-playing instruments also look to the future with new Alnico 5 pickups that crank out legendary Fender tone by the boatload. There's never been a better time to get into a genuine Fender bass. Pick up a Player Series bass, and lay down the groove with a modern classic.
The timeless J Bass sound
Whether you play rock or country, funk or blues, or (naturally) jazz, the Player Series Jazz Bass will deliver the tone you need. This J Bass comes loaded with a pair of Fender-designed Player Series Alnico 5 single-coil pickups that deliver the classic J Bass sound you've heard on countless recordings. And with individual volume controls for each pickup plus a master tone control, you'll be able to dial in the exact sound you want.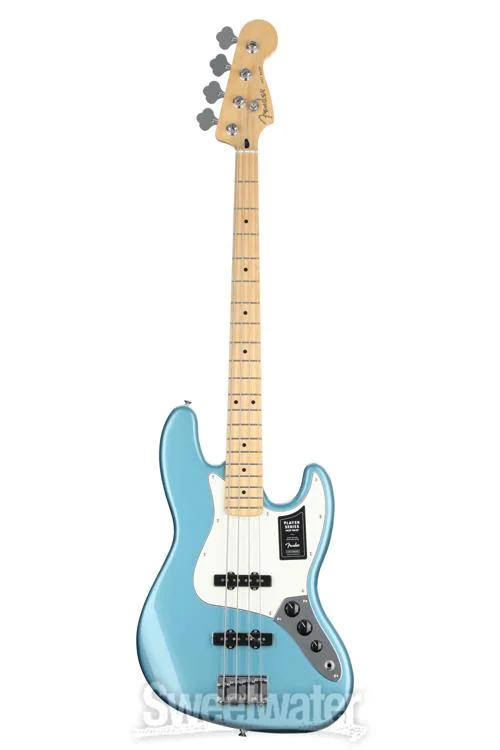 Shaped for comfort and performance
One of the things that made the J Bass an instant hit with working bass players was its unique offset-waist body shape. Perfect whether playing standing or seated, the classic Jazz Bass contoured body will make those marathon gigs and sessions much more comfortable. With its slim C-profile neck that's only 1.5″ wide at the nut, this instrument was originally designed to appeal to jazz bassists. The slender neck not only facilitates the fluid execution of fast, complex bass lines; it's perfect for any musical style — which is why you hear the Fender Jazz Bass in every genre of music.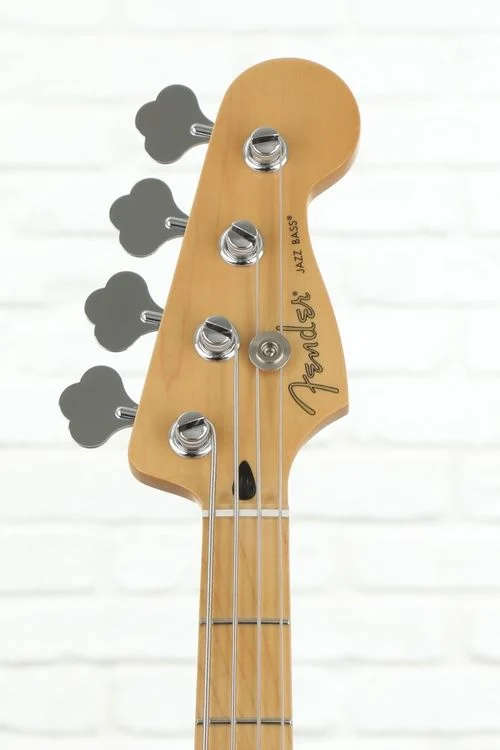 Join the ranks of Jazz Bass players
Pick up this Player Series Jazz Bass, and you're entering the company of some of the greatest bass players of all time. World-renowned bassists such as Jaco Pastorius, Geddy Lee, Marcus Miller, Larry Graham, John Paul Jones, and Victor Bailey have all chosen the J Bass as their go-to axe. If you want the iconic round and punchy, growling J Bass sound, you're on the right page. Pick up the Fender Player Series Jazz Bass, and drive your music with legendary tone.
Fender Player Series Jazz Bass Features:
The classic J Bass, with Player Series upgrades
Alder body with offset waist for enhanced comfort whether playing seated or standing
Slim, fast-action C-profile maple neck; 9.5″-radius fingerboard
2 Player Series Alnico 5 single-coil pickups
2 volume controls; master tone control