Description
A Classic Tele with Modern Flavor
Some folks think Teles are a twanging one-trick pony. They obviously never played a Fender Player Series Telecaster. Loaded with dual Alnico V single-coil pickups, this axe delivers everything from country twang to jazzy articulation to high-octane rock 'n' roll — and anything in between. A modern C-shaped neck and 22-fret, 9.5″-radius fingerboard give you a decidedly contemporary feel with fast action and comfortable playability. You also get a synthetic bone nut, 6-saddle string-through bridge, and Fender standard sealed tuners. If you appreciate classic Tele tone but crave a more modern flavor, pick up the Player Series Telecaster. But be warned — you won't want to put it down.
Fender's Player Series: vintage vibe, modern edge
For their new Player Series guitars, Fender went back to the drawing board with updated radii for more historically accurate body shapes, new vintage-inspired finishes, and a classic logo that harkens back to the Fenders of yesteryear. But these smooth-playing instruments also look to the future with modern enhancements that include 22-fret necks, upgraded bridges for better sustain, and refined pickups that crank out legendary Fender tone by the boatload.

Alnico V pickups deliver punchy sounds with ample output
You're sure to cut through the mix, thanks to the Player Series Telecaster's Alnico V single-coil pickups. These pups deliver the classic tones that have been with us since the dawn of the Tele, but with increased punch and output. If you're into chicken pickin', you'll love the sound of this Tele's bridge pickup. And single-line jazz and country lines sound heavenly on the neck pickup. Full-on amp distortion sounds great in either position, yielding tight lows and stinging highs. Aggressive twang, smoky jazz, saturated high-gain — everything sounds great through these pickups.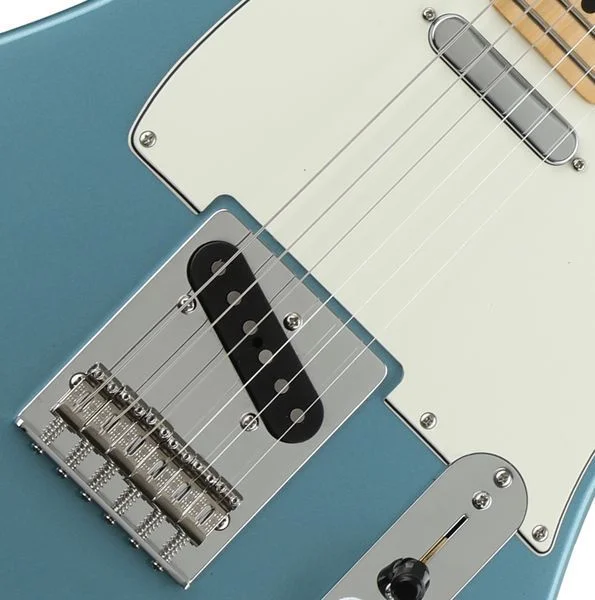 Maple neck and fingerboard
Leo Fender wasn't a guitar player. In fact, he got his start repairing radios. When designing his original instruments, he had no idea that guitars weren't supposed to have maple necks. This Fender Player Series Telecaster has the revered maple neck and a tried-and-true maple fingerboard, supplying you with a snappy feel and clear-as-a-bell sound. In keeping with contemporary tastes, this Tele has a more modern C-shaped maple neck with a satin urethane finish.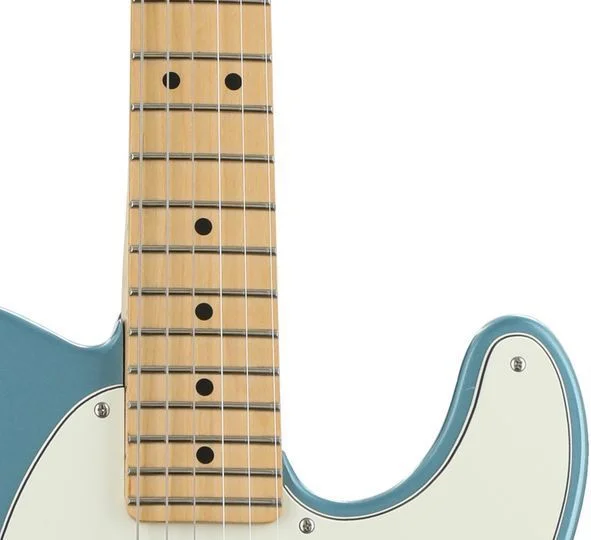 The Fender Telecaster — a brief history
This is it: the original guitar that started Fender's march into contemporary music history. It appeared in the early 1950s and was first named the Broadcaster. The ingeniously simple design, the bolt-on neck, and the slab body all contribute to the guitar's trademark tones and player-friendly feel. From Nashville twang to blistering rock tones, the Telecaster sound has made its presence felt in nearly every musical category. The diverse list of Telecaster players, including Muddy Waters, Keith Richards, James Burton, Bruce Springsteen, Joe Strummer, and John 5 (and quite a few of us here at Sweetwater) attests to the guitar's universal appeal.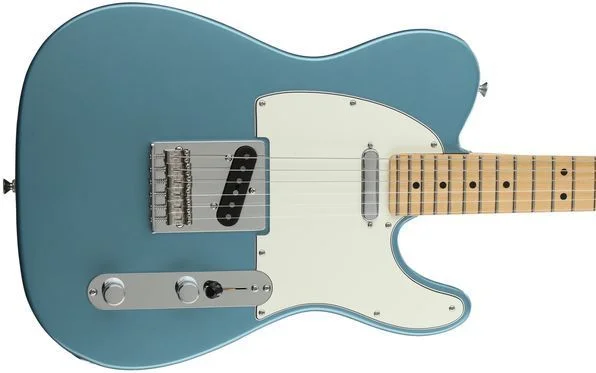 Fender Player Series Telecaster Features:
A Telecaster with classic tones and modern playability
Alnico V single-coil pickups deliver punchy sounds with ample output
Fast-action modern C-shaped neck and 22-fret, 9.5″-radius fingerboard
Synthetic bone nut enhances vibrational transfer through the neck
6-saddle string-through bridge supplies a mean bite and excellent intonation
Fender standard sealed tuners for rock-solid tuning