Sleek and Exotic RG
The Ibanez RG421PB solidbody electric guitar is purpose-built for high-speed, low-drag playing. It all starts with the seductive and aggressive RG body that is capped with beautiful poplar burl. The RG421PB also gives you a fast-playing maple Wizard III neck and a resonant, well-balanced mahogany body. You'll love how this guitar feels as soon as you pick it up. And it sports two hot Quantum humbuckers, perfect for rock, blues, and metal. Get your hands on an Ibanez RG421PB solidbody electric guitar, and prepare to rock.
Classic RG performance
The Ibanez RG series of guitars has remained a standard in rock music for the last couple of decades, thanks to the effortless playability of its Wizard III neck. Switching between aggressive rhythm playing and wild lead lines is effortless on this slim-profile neck. And the RG body style's aggressive lines strike an imposing look onstage while being expertly contoured for a comfortable playing experience. Guitarists here at Sweetwater love the feel and playability of Ibanez's RG guitars. You will too!
Fixed bridge stability for rock-solid tuning
The Ibanez RG421PB sports a fixed bridge, which gives the peace of mind that comes from rock-solid tuning stability. From standard to lowered tunings, your guitar's pitch will remain more stable, and the string tension will feel more consistent. Also, when you change tunings on the fly, they will be ready to go without messing with the tremolo or loosening locking nuts. Many also attribute greatly increased sustain and a fatter overall tone to the way hardtail bridges transfer the string's energy directly to the RG421PB's body.
Big tonal range
With two Quantum humbucking pickups and 3-way switching, you'll be able to shape your tone any way you like on the RG421PB. The Quantum humbuckers offer plenty of punch and output to drive your favorite amplifiers or distortion stompboxes. But their clear top end and full lows allow them to sound fantastic throughout a wide variety of additional styles. Although the Ibanez RG will forever be known as a rock guitar, the RG421PB's fast playability, extreme comfort, and tonal variety make it a great guitar for a whole lot more.
Features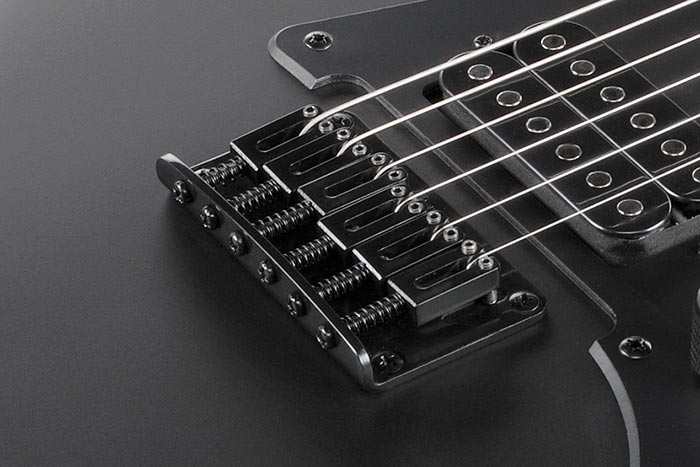 F106 bridge
The F106 bridge enriches sustain. String height adjustment can be done easily and independently.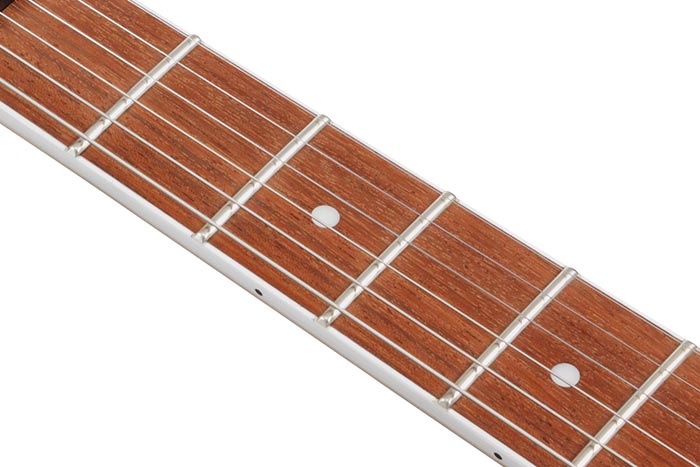 Jatoba Fretboard
Jatoba has a reddish brown color which produces a rich mid range with a crisp high end.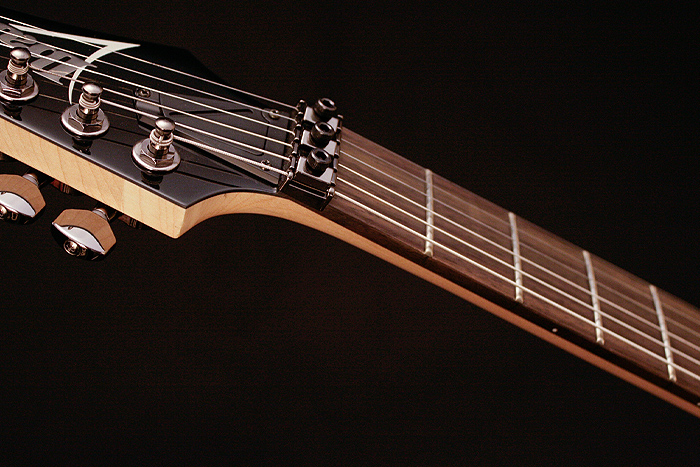 Wizard III Maple neck
Ibanez's thin, flat and fast Wizard neck is strong and sturdy and offers unlimited playability and features a two-octave 24-fret fretboard for a wide tonal range.
Quantum pickups
The Quantum pickups provide accelerated bass response for exceptionally fast tracking of high-speed staccato riffing with crushing mid range and precise high-end articulation.
SUPPORT
Manual Download

Parts Catalogue
SPEC
SPECS

neck type

Wizard III

Maple neck

top/back/body

Poplar Burl top

Meranti body

fretboard

Jatoba fretboard

White dot inlay

neck pickup

Quantum (H) neck pickup

Passive/Ceramic

bridge pickup

Quantum (H) bridge pickup

Passive/Ceramic

factory tuning

1E,2B,3G,4D,5A,6E

strings

D'Addario® EXL110

string gauge

.010/.013/.017/.026/.036/.046

hardware color

Cosmo black

NECK DIMENSIONS

d : Thickness

21mm

 at 12F

DESCRIPTION

SWITCHING SYSTEM

DESCRIPTION

CONTROLS

DESCRIPTION

OTHER FEATURES