Description
If you play down-tuned metal on a 6-string, Ibanez has designed a guitar just for you. With its 26.5″ scale length, he RGD Iron Label RGDIX6PB is optimized for the heaviest music styles, executing every note with precision and power. The fast Nitro Wizard neck, topped with a luxurious ebony fingerboard, plays beautifully, while the instrument's deep cutaways give you unrestricted access to the upper registers. And the RGDIX6PB's DiMarzio Fusion Edge pickups deliver powerful scooped tone with tight, compressed bass response and crisp high-end bite. The Ibanez RGD Iron Label RGDIX6PB is a progressive metal player's dream come true.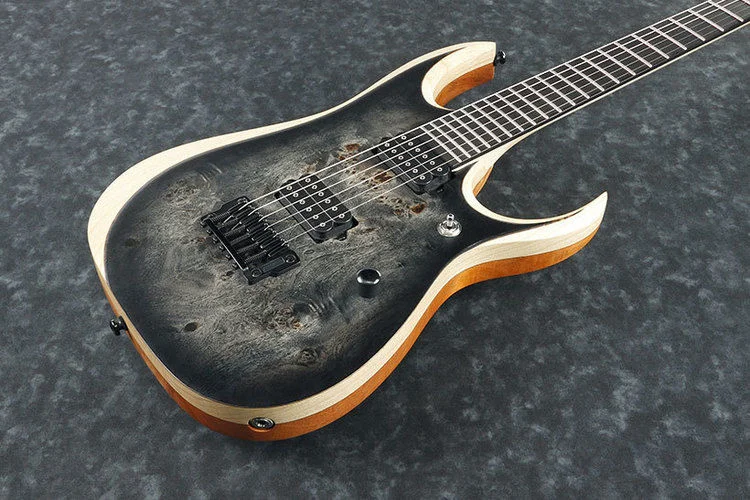 Fusion Edge humbuckers: made for metal
The Fusion Edge humbucking pickups on the RGDIX6PB are the result of a collaboration between Ibanez and noted pickup maker DiMarzio. Designed for down-tuned metal, Fusion Edge pickups deliver a powerful scooped sound with tight, compressed bass response and crisp high-end articulation — ideal for bludgeoning djent chugs and high-speed staccato riffing. The RGDIX6PB's DiMarzio Fusion Edge pickups give you the aggressive, yet precise tone that the modern metal guitarist needs.
Nitro Wizard neck and ebony fingerboard
The 3-piece maple/bubinga neck on the RGDIX6PB features Ibanez's Nitro Wizard neck profile, which gives you effortless access to this guitar's entire range. And for the ultimate in playability, the neck is capped with a luxurious ebony fingerboard, providing you with unbelievably smooth fretting. The guitarists here at Sweetwater can't get enough of this guitar's fast Wizard neck.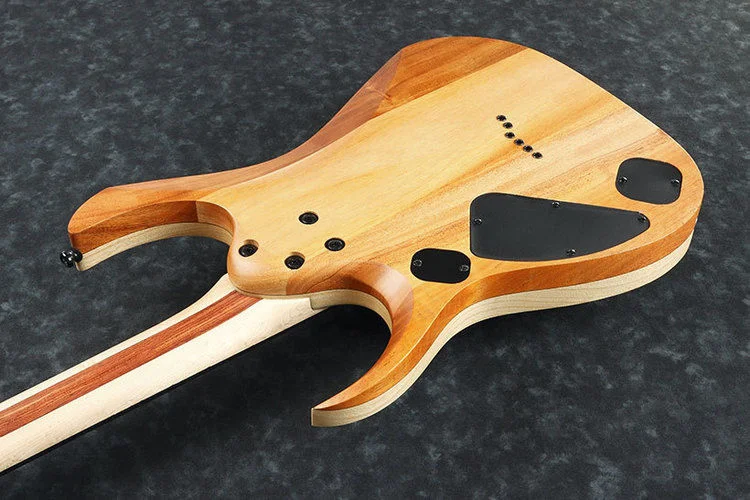 Ibanez: a brief history
Ibanez began its life in 1908 as the Hoshino Gakki company in Nagoya, Japan. However, the company didn't get into the guitar business until 1929, when they started importing Salvador Ibanez guitars from Spain. In 1935, Hoshino Gakki began building Spanish acoustic guitars under the "Ibanez Salvador" name, which was later shortened to "Ibanez." Although Ibanez began manufacturing electric guitars in 1957, the company was relatively unknown in the West until the 1960s, when they started producing guitars based on American designs. By the late 1970s, Ibanez had stopped producing derivative guitars and had begun manufacturing the original designs that the company is now known for. Ibanez is also famous for their effect pedals (most notably the Tube Screamer) and guitar amplifiers.
Ibanez RGD Iron Label RGDIX6PB Solidbody Electric Guitar Features:
Ash/mahogany layered body with eye-catching poplar burl top
Slightly longer 26.5″ scale length optimized for down-tuned styles
Fast, 3-piece maple/bubinga Nitro Wizard neck
Smooth Ebony fingerboard
Gibraltar Standard II bridge
Gotoh MG-T locking machine heads
2 DiMarzio Fusion Edge pic