Streamlined DAW Control
Taking a cue from PreSonus' FaderPort 8 and 16, the upgraded 1-channel FaderPort offers tightly integrated, optimized workflows and expanded DAW compatibility. Take control of your mix with a touch-sensitive, 100mm long-throw, motorized fader and 360-degree push-button encoder. Speed up your productions with convenient transport and automation controls. Enjoy seamless, native support for Studio One, as well as compatibility with Logic Pro X, Cubase, Live, and more via Mackie's Control Universal emulation. Pro Tools users will also benefit from tight integration via the Mackie HUI emulation. If you're searching for a way to maximize your workflow, the FaderPort is a great solution.
Rely Less on Your Keyboard and Mouse
Take command of your DAW
The FaderPort is loaded with a high-quality motorized long-throw fader to give you the feel needed for recording perfect fades and writing automation. A footswitch jack is also included on the FaderPort for hands-free punch in/out during recording. The FaderPort works with any Mac or Windows-based recording software including Studio One, Pro Tools, Logic Pro X, Cubase, Live, and more.
Work faster with dedicated transport controls
The main transport section of the FaderPort is extremely convenient. In addition to all the standard transport controls, you have general session controls such as undo/redo, solo/mute clear, track management, and more, plus you can switch automation modes instantly.
Manage complex sessions with Session Navigator
The FaderPort's Session Navigator makes managing complex sessions a breeze. Enjoy instant hands-on control of any Studio One parameter via a link/lock to parameter mode. Lock the FaderPort onto a specific mixer channel in your DAW with a channel selector mode. You can scroll through and zoom in or out of your DAW timeline, select and nudge a section, region, or event, and more. You also get a pan control and pan "flip" mode.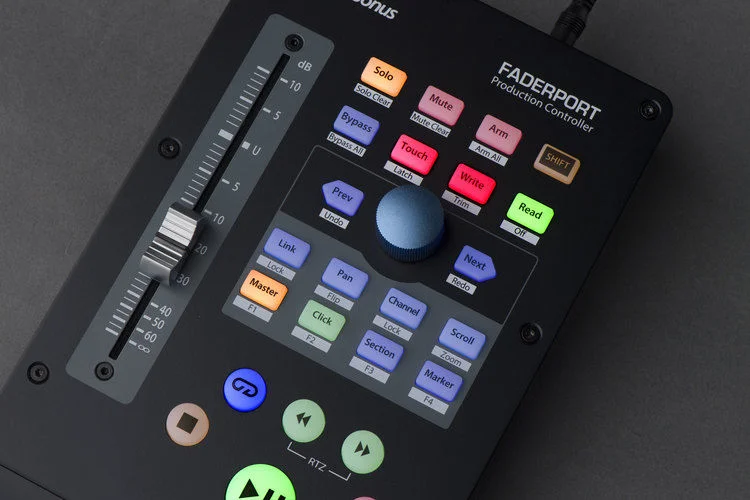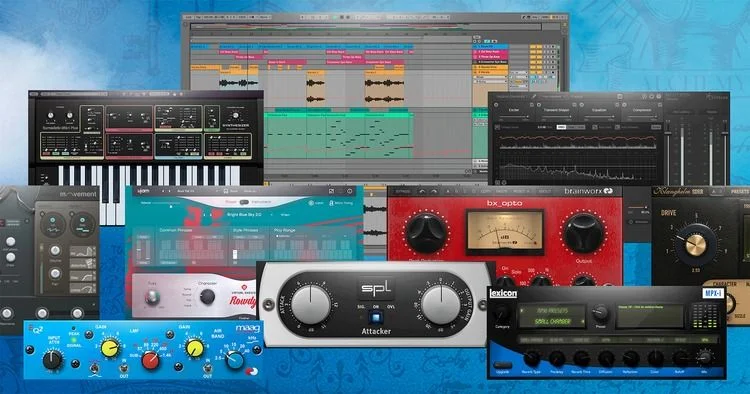 Superb software package included
Your purchase includes Studio One Artist and everything you need to start recording via your computer. Plus, to take your recordings to the next level, you get the Studio Magic plug-in suite. This extensive collection of popular plug-ins includes emulations of classic studio gear from legendary manufacturers, adding hundreds of dollars in extra value. Punch up your mix bus with the Brainworx bx_opto compressor, add ambient reverb with Lexicon MPX-i Reverb, fire up transients with SPL's Attacker Plus, and much more. And since these plug-ins are available in AAX, VST, and AU formats, they're compatible with any DAW.
PreSonus FaderPort Features:
Mouse-free music production
Same design esthetics as PreSonus' FaderPort 8 and 16
Touch-sensitive, 100mm long-throw, motorized fader
360-degree push-button encoder
Complete recording transport control
Write single channel or group-channel automation
Pan control, mute, solo, record enable
Seamless, native support for Studio One
Compatible with Logic Pro X, Cubase, Live, and more via Mackie Control Universal emulation
Integration with Pro Tools via Mackie HUI emulation
Session Navigator makes managing complex sessions a breeze
Footswitch jack for hands-free punch in/out
Packaged with the complete Studio Magic Plug-in Suite — a collection of awesome plug-in emulations of classic studio gear
Tech Specs
Type:

Transport Production Controller

Faders:

1 x 100mm motorized fader

Transport Controls:

Yes

Encoders/Pots:

Push-button Rotary Encoder

Soft Keys:

8 x function keys

Computer Connectivity:

USB

USB:

1 x Type B

Other I/O:

1 x 1/4″ (footswitch)

Software:

Studio One Artist

Compatibility:

Mackie HUI Pro Tools, Mackie Control Universal (Logic Pro X, Cubase, Ableton Live, Studio One)

Hardware Requirements – Mac:

Intel Core 2 Duo or higher

Hardware Requirements – PC:

Intel Core 2 Duo / AMD Athlon X2 or higher

OS Requirements – Mac:

macOS 10.13 or later

OS Requirements – PC:

Windows 10 or later

Power:

12V DC power supply

Height:

1.8″

Width:

5.5″

Depth:

9″

Weight:

1.5 lbs.

Manufacturer Part Number:

FaderPort