16 Full Size Velocity Sensitive RGB Pads | Color LCD | Touch Strip Controller | 1/8 inch (3.5mm) MIDI I/O Jacks | USB Bus Powered | Includes MPC Software
A COMPLETE MPC SYSTEM
MPC Studio brings the total MPC experience to your computer by combining intuitive hardware control and innovative, inspiring software. Load a loop from the library, chop it into samples, lay down a beat, then play instruments over it to add more melodic textures. Add some insert effects to develop your song structure and arrangement, or to build drops and transitions. MPC Studio makes your workflow one continuous stream of non-stop creativity.
PREMIUM PADS FOR PERFECT PRODUCTION
Pad performance is the top priority for any beat maker. With MPC Studio, you can be confident that every beat and note will be right on time, every time. Velocity-sensitive RGB pads mean maximum expression, whether you're playing soft melodies or booming kick drums with colored visuals to keep track of your velocities and pad groupings. Switch from Note to Chord Mode quickly and build out your tracks right as inspiration strikes.
ASSIGNABLE TOUCH STRIP CONTROL AND EXPRESSION
Make sounds your own with the assignable Touch Strip. This fluid controller bends and shapes your sounds however you want. Make that pad synth more mysterious with a swell, control the roll of your hi-hats to fill your trap drumbeat, or make that guitar part more realistic by articulating the strum right where you need it. Assign any of the numerous knobs, sliders, and parameters to the Touch Strip for new and inventive manipulation of any track.
COLOR SCREEN FOR VIBRANT FEEDBACK
When you're locked in the creative moment, the vibrant color screen ensures you can keep your hands on the MPC Studio and your focus on the music. Whether you need to trim a waveform, browse through a plugin library, or adjust parameters on the fly, the screen gives you the visual feedback you need in a moments glance without having to stop your workflow and reach for your laptop. When it comes to your musical efficiency, every moment matters, and every move needs to help you effectively capture your ideas to finish your songs faster.
WORLD-CLASS PLUGINS & EFFECTS
MPC Studio and the MPC 2 Desktop software include an extended palette of sounds, instruments, drum samples, loops, insert effects, and much more to both spark your creativity and complete any music project or task. With over 100 instrument and effects plugins combined, MPC Studio can tackle any style or genre of music with rich, inspiring sound. The insert effects plugins are powered by award-winning AIR Music Tech., with powerful editing, arranging, and mixing tools including the AIR Vocal Suite. Create, record, and mix the perfect vocals with the Vocal Suite to add everything from pitch correction, to harmonizing, to thickening your vocals and audio tracks with the AIR Doubler.
TOTAL STUDIO INTEGRATION
Whether you're a seasoned music professional or just starting out and ready to make beats, MPC Studio is a music production controller that will seamlessly fit right into your music creation setup. For the beginner, MPC Studio delivers years of industry-standard workflows into a slim, sleek music controller to instantly capture ideas and build hit songs quickly. For the professional, MPC Studio will easily integrate with your MIDI devices and become the hub of your recording, arranging, and mixing projects. In any recording environment or workspace, MPC Studio is sure to supercharge your process and help take your music-making to another level.
EXCLUSIVE SOUND CONTENT
Discover over 2GB of exclusive sound content from industry leading sound designers. With samples and loops from Sample Tools by CR2, Rawcutz, F9, MSXII Sound Design and MVP Loops, you'll never be short of inspiring sounds to make amazing records.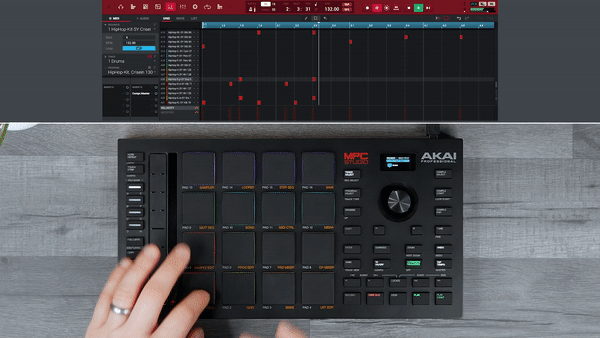 LAY DOWN YOUR BEATS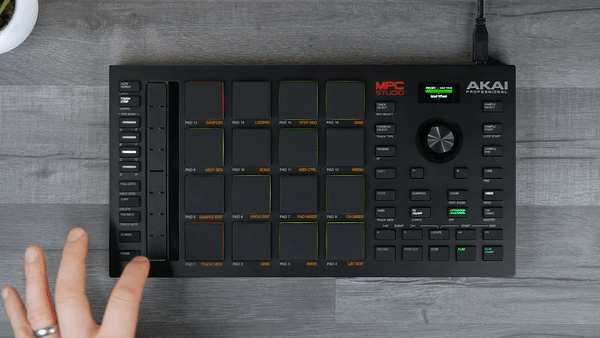 ADD A CREATIVE TOUCH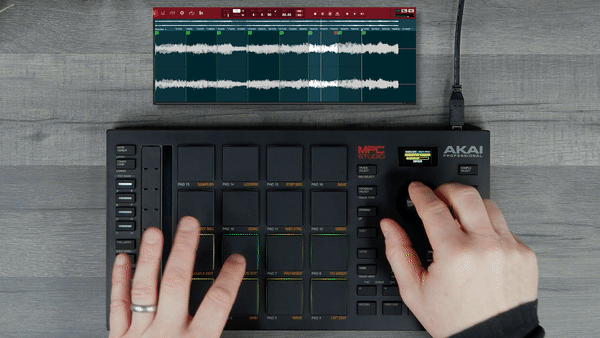 VISUAL FEEDBACK WHEN YOU NEED IT
The MPC Academy is the ultimate destination to learn MPC Studio. Discover a wide collection of tutorials, overviews, and masterclasses that will cover beat making fundamentals, common MPC techniques, and advanced workflows to help you navigate your journey as a beat maker and producer. Enter the academy now.