The perfectcreative companion
Don't let the MiniLab MkII's compact form factor fool you.
It's powerful, hands-on and unrivalled in quality, built to streamline your creative process. Portable, yet fully featured. Lightweight but rugged. MiniLab MkII is the new go-to small controller for producers in the know.
MiniLab MkII's portable, versatible, and USB-powered design makes it the ideal keyboard for playing anywhere, from busking to your compact touring rig.
Control VSTs like Analog Lab Intro, trigger your favorite samples and drum loops, and record expressive automation – all with a single controller.
Use MiniLab MkII's creative software bundle alongside its assignable controls to refine and experiment with your mix, whatever your style.
Portable, powerfulpractical
Not only will you save time thanks to MiniLab MkII's simple, all-encompassing feature set – you'll save space too.
You might have limited room in your home studio setup. Or perhaps you need a portable solution that you can easily slip into a rucksack. MiniLab MkII is among the most compact controllers of its kind. Add bus-powered functionality to the mix, and you can get creative no matter where you find yourself.
You can't have portability without reliability. A rugged, high-quality construction ensures that MiniLab MkII can handle even the most demanding of schedules. And not only that – it looks the part and feels great to play too.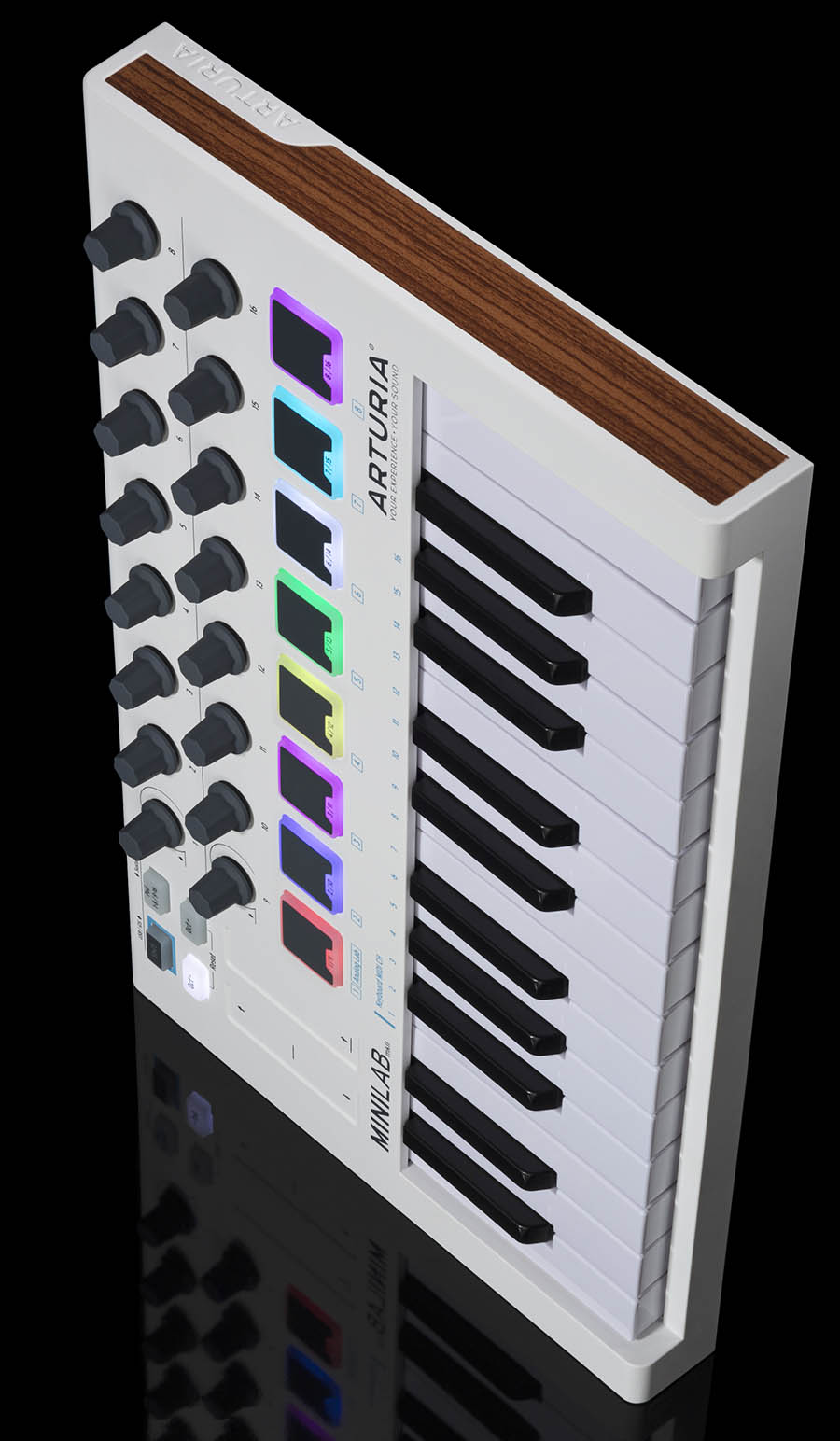 Inspiringsoftware included
Whether you're an experienced veteran of the industry, or just starting out as a music producer, you'll love the awesome instruments that come with Minilab MkII.
Your very own vintage keyboard collection
Analog Lab Lite gives you instant access to hundreds of stunning sounds from our award-winning software instrument catalogue. Featuring 17 iconic instruments from V Collection, including analog synths, revolutionary digital workstations, organs, string machines and pianos, all beautifully recreated using Arturia's innovative True Analog Emulation® technology.
Ableton Live lite
An introduction to one of the most intuitive, popular production platforms around
An introduction to one of the most popular recording and performing platforms in the world, Ableton Live Lite lets you record, effect, mix, and export your tracks, so you can start making music straight out of the box, even if you don't already own a DAW. Live Lite can also help you hit the stage with performance controls!
Uvi Grand Piano
An essential instrument for any songwriter's sound palette
Steinway pianos are found in only the very best concert halls and recording studios. Thanks to MiniLab MkII, you can have one in your own home. The UVI Model D puts the sound of the famous Steinway Model D grand piano at your fingertips, sampled in exquisite detail, and ready to play.