Redesigned monophonic analog circuitry.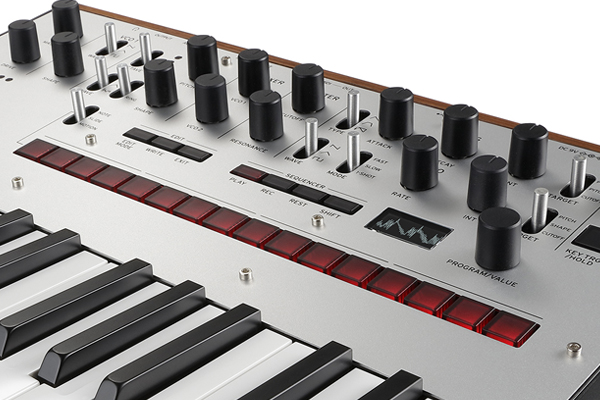 The monologue contains monophonic analog synthesizer circuitry that builds on the circuitry of the minilogue. But that doesn't mean that the monologue is simply a one-voice model of the minilogue. It's a monophonic beast with stunning power that comes from a redesigned envelope section, modulation routing, and a filter with powerful low-end punch.
The structure is 2VCO, 1VCF, 1EG, 1VCA, and 1LFO. In addition to the same distinctive circuits as on the minilogue (such as the wave shaping that shapes the overtones of the oscillator, and a sync/ring switch), the filter section uses a two-pole filter to deliver aggressive sound. Newly featured is a drive circuit that adds overtones and distortion to the sound, letting you generate fat basses and sharp lead sounds to your heart's content. The LFO rate can be adjusted into an unprecedentedly ultra-high-speed range to generate crazy space-shattering sounds, or switched to one-shot mode to act, in a sense, as an additional envelope.
The keyboard section features the acclaimed slim keybed of the minilogue and the MS-20 mini. To make monologue a synth that any musician can immediately pick up and play, the keyboard covers the E–E range of notes – just like a guitar or bass.
Fully programmable.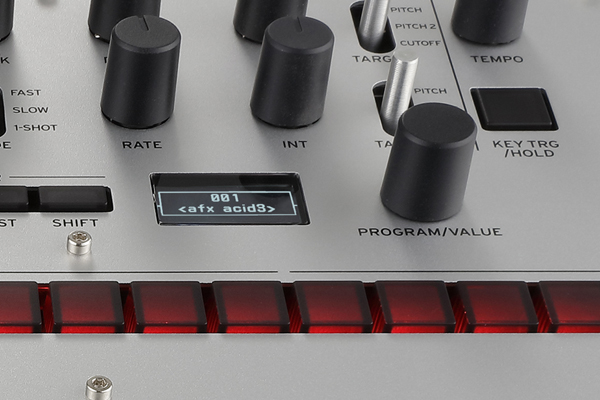 The monologue goes beyond analog synths in its price range by adding 100 preset locations. Select a program for instant access to great sounds – – ranging from thick basses to deep subs to brilliant cutting leads and even percussive sequences. No need to have deep synthesis knowledge; just choose a sound and tweak – a workflow that is very familiar with musicians today. Built-in programs provide 80 preset sounds and sequences made by creative artists around the world including legendary electronic artist Aphex Twin, plus 20 user locations for saving custom sounds.
In addition, the Sound Librarian lets you manage your program data.