Description
JBL 104-BT compact reference monitors with Bluetooth, the newest models in the 1 Series line, draw from seven decades of JBL Professional engineering to deliver the truest, most accurate sound in their class. They're perfect for recording musicians, producers, podcasters and vloggers, as well as professional audio engineers seeking an accurate portable reference with Bluetooth streaming.
JBL 104-BT Reference Monitors combine a powerful coaxial 4.5-inch (118 mm) low-frequency driver and .75-inch (19 mm) soft-dome tweeter, potent integrated 60-watt amplification and an innovative acoustic design to reproduce honest sound with exceptional imaging and crisp detail. Bluetooth streaming lets you check mixes over Bluetooth to make sure they sound great in every listening scenario.
Both the black 104-BT and white 104-BTW versions are sleek, elegant designs and compact form factors, making stunning statements in any studio while conserving valuable work space.
Creative professionals, music lovers and anyone who wants the flexibility to stream both wired and wireless sound into high-quality studio monitors can count on JBL 104-BT to provide an accurate, reliable sonic reference and a truly enjoyable listening experience.
Features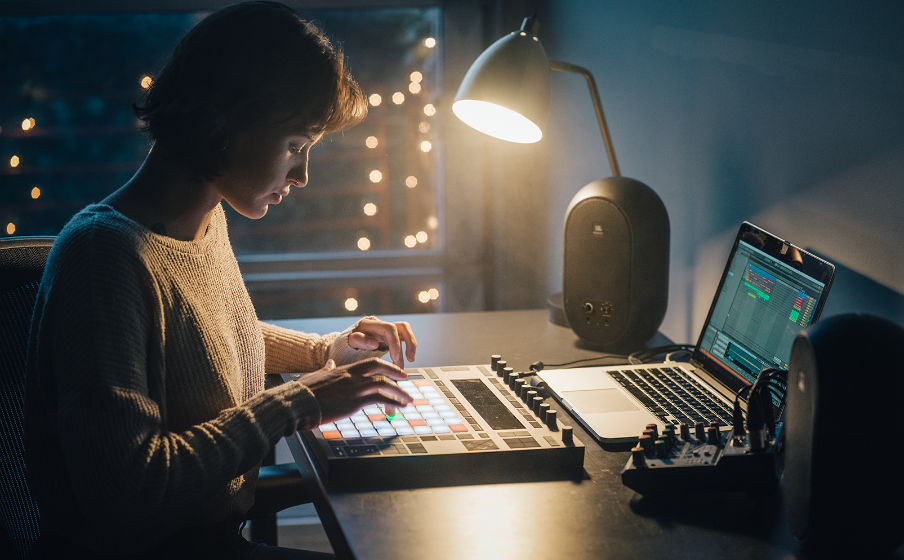 Coaxial driver design
With 4.5-inch (118 mm) LF driver and .75-inch (19 mm) soft-dome HF driver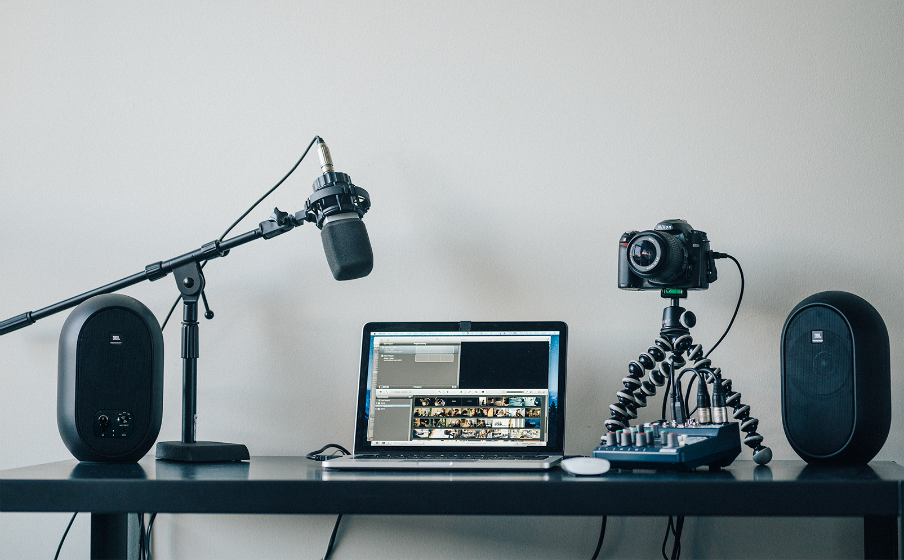 Integrated 60-watt Class D power amplifier
Distributes 30 watts to each speaker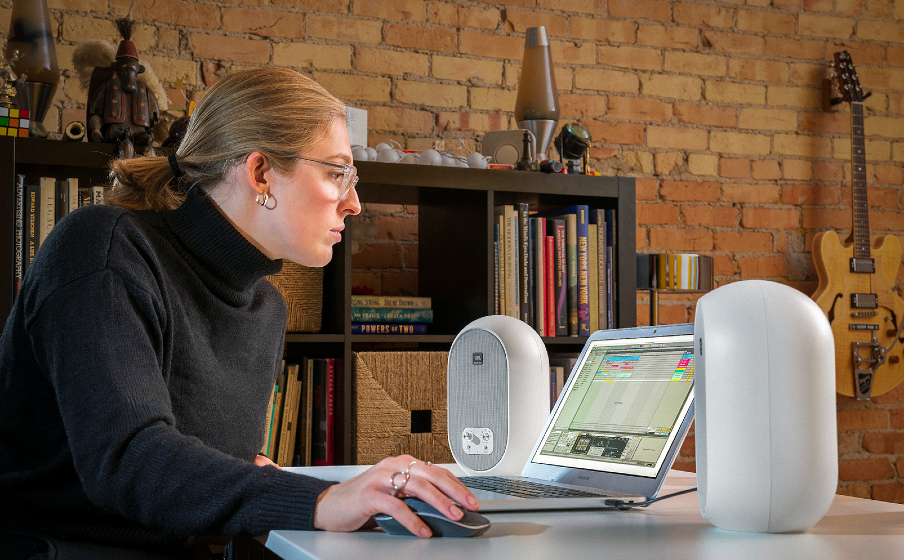 Acoustically optimized
For desktop placement
Features
Coaxial 4.5-inch (118 mm) LF driver and .75-inch (19 mm) soft-dome HF driver deliver full-range fidelity
Reference mixes over Bluetooth with built-in Bluetooth 5.0 streaming
Integrated 60-watt Class D power amplifier; 30 watts distributed to each speaker
Acoustically optimized for desktop placement
Molded ABS cabinet with contoured low-frequency port
Three sets of inputs allow connection with professional equipment, personal music players and consumer-level devices
Host monitor includes electronics for the extension monitor, minimizing wiring and clutter
Front-panel input control selects Bluetooth, Aux, RCA, TRS or combines all inputs
Front-panel volume control
Front-panel headphone jack with speaker mute feature
Integrated power supply
Available in black (104-BT) and white (104-BTW) variants
Trust the Transparency
Great mixes start with honest mix references. With JBL 104-BT, you'll hear the content you've created in true clarity and detail, with none of the coloration that can compromise your mix decisions. 104-BTs are optimized for desktop placement, and their smooth off-axis response means you can reference your mixes confidently across a wide sweet spot.
Pro Performance, Scaled to Size
The world's top recording studios and touring artists rely on JBL Professional monitors to deliver unparalleled fidelity and performance. With our 1 Series, we've optimized that technology in our smallest form factor ever. The 104-BT Reference Monitor's innovative coaxial driver design features a high-frequency driver aligned with a woofer cone precisely contoured to deliver accurate response, exceptional detail and impressive off-axis performance. The result: neutral, accurate sound, anywhere. The cabinet's precisely contoured low-frequency port works with the driver to deliver powerful, tight bass at any volume level.
The Bluetooth Advantage
The 104-BT offers the convenience of Bluetooth streaming, which gives audio engineers the ability to check their mixes over Bluetooth to ensure they translate well to common listening scenarios.
Power and Punch 
The JBL 104-BT Reference Monitors' integrated 60-watt Class D power amplifier distributes a potent 30 watts per speaker.
JBL 104-BT Reference Monitors integrate smoothly into any production workspace, thanks to smart features like a front-panel input control that selects Bluetooth, Aux, RCA, TRS or combines all inputs—quickly check references or switch easily between tasks like playing back your tracks and taking a phone call. Or, select all inputs for a simple mix. Front-panel volume control allows convenient level adjustments without straying from the sweet spot, and a front-panel headphone jack automatically mutes the speakers, giving you isolation in one simple step. And, JBL 104-BT Reference Monitors' dual 1/4-inch balanced, dual RCA and single 1/8-inch inputs accommodate a wide range of signal sources.
| | |
| --- | --- |
| LF Driver | 4.5 in (118 mm) |
| HF Driver | 0.75 in (19 mm), soft dome |
| Crossover | 1725 Hz, 1st order |
| Input Sensitivity | 87 dB / 1 m |
| Power Amp | 60 W (30 W each speaker), Class D |
| Maximum Continuous SPL | 89 dB |
| Maximum Peak SPL | 102 dB |
| Maximum SPL (1m) | 104 dB (momentary peak) |
| MAXIMUM PEAK INPUT LEVEL (-10dBV / +4dBu) | +6 dBV / +20.3 dBu |
| Frequency Response (±3 dB) | 60 Hz – 20 kHz |
| SYSTEM DISTORTION CRITERIA | <10% THD at maximum output with full compressor / limiter engagement |
| ELECTRICAL DISTORTION CRITERIA | <0.2%THD @ 1 kHz, 2.83 VRMS output; <1% THD @ 1 kHz, full rated output |
| Signal to Noise Ratio | 75 dBA (A-Weighted), 70 dBr (unweighted), relative to 2.83 VRMS output on HF |
| Coverage Angle | 120º x 60º |
| Dimensions (H x W x D) | 9.72 in x 6.02 in x 4.88 in (247 mm x 153 mm x 124 mm) |
| ENCLOSURE TYPE | Ported |
| Enclosure | ABS with metal grille |
| ENCLOSURE FINISH | Matte black acrylic paint |
| Audio Output Connectors | 1 x 3.5 mm (1/8″) stereo headphone with auto speaker mute |
| Input Connectors | 2 x 1/4-inch (6.5 mm) balanced (+4 dBu); 2 x RCA (-10 dBV); 1 x 1/8-inch (3.5 mm) unbalanced (-10 dBV) |
| AC INPUT VOLTAGE | 100 – 240 VAC (± 10%), 50/60 Hz |
| Current Draw | 85 watts |
| LF Driver Power Handling | 30W, Class D |
| Net Weight (each) | Host Monitor = 4.54 lb (2.06 kg); Extension Monitor = 3.81 lb (1.73 kg) |