Description
5-piece Electronic Kit with Powerful App Enhancements Plus Upgraded Kick and Hi-hat
There's even more to love about the DTX400 Series in the Yamaha DTX452K electronic drum kit. From its immersive stereo drum samples and better-playing rubber pads to its ironclad 4-post stand, this kit boasts practice and performance improvements across the board. Exciting new features include 10 training and challenge modes via the free DTX402 Touch app (iOS/Android) and Yamaha's Rec'n'Share app compatibility to film and share drum covers straight from your iOS device. In addition, the DTX452K is equipped with the KP65 kick drum tower and the HH65 adjustable hi-hat controller and pedal for even more expressive playing. The DTX452K's 10 customizable drum kits and 415 percussion sounds offer a wealth of tones to suit your musical moods: pop, metal, EDM, and beyond.
Powerful features and hardware
Quick access to 10 preset kits
There's no menu diving within the DTX402 module. Each of its 10 preset kits is accessible via a dedicated button. This is true of play-along songs, training modes, metronome, and tempo/volume control as well. For greater editing control, users can download the free DTX402 Touch app.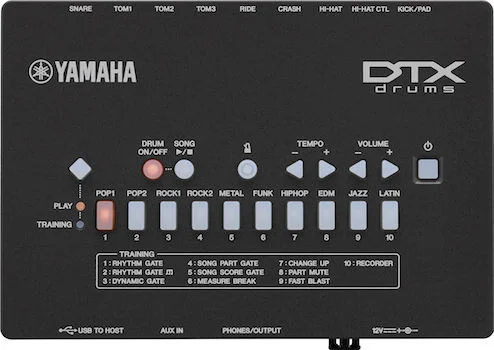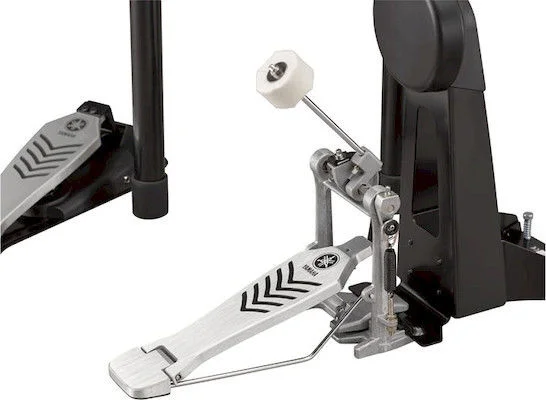 3-zone snare pad and upgraded hi-hat controller and kick tower
The DTX452K uses the same great pads and module as the DTX402K, but includes a 3-zone snare pad, an upgraded adjustable hi-hat controller (which permits half-open sounds), and a better-feeling kick drum tower with a high-quality Yamaha pedal. Together, these upgrades push the realism of the DTX402 module to its max.
Better-feeling drum and cymbal pads
The DTX452K sports even better-playing, more responsive rubber pads than previous generations. Drums are fast and dynamic, and cymbals can be choked for even greater realism.
Stable 4-post rack stand
A welcome feature in the DTX452K is its stable new rack system. Hi-hat and cymbal pads sit on offset, adjustable cymbal arms for greater positional freedom.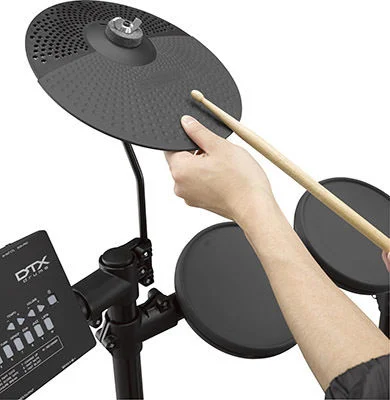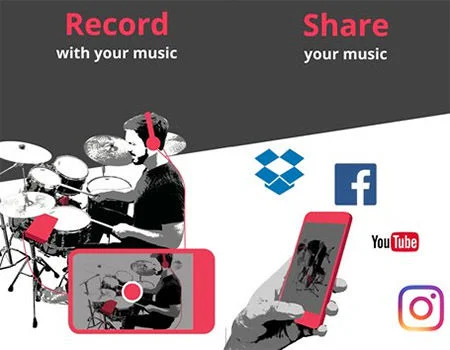 Rec'n'Share app compatibility
Yamaha's Rec'n'Share app (iOS) injects your mobile video with audio straight from your DTX402 module for performances that are easy to share with friends, bandmates, and video services like YouTube. It all happens on the fly: pick songs from your iOS music library, find the sounds you're after, and point and shoot.
Even better with the free DTX402 Touch app (iOS/Android)
Customize drum kits
The free DTX402 Touch app makes it fast and easy to access the DTX452K's deepest kit-building features. Here you can choose sounds, tune and balance drums and cymbals, pan left to right, add reverb, and mute pads altogether.
Gamify your practice routine
By feeding you standard music notation and tracking how well you stay in the pocket, the DTX402 Touch app's Song Score Gate and Rhythm Gate features will make you a tighter, more in-demand drummer. No matter where you are in your musical journey, these features will keep your practice and warm-up hours fresh, with progress you can see.
Build speed with Fast Blast
Fancy yourself the next Johnny Rabb? Fast Blast mode tracks how many drum strokes you can play in a fixed amount of time. This is a great way to build speed and a fun way to compete with your drummer friends. For an intermediate kit that's packed with practice and performance features, drummers at Sweetwater stand behind the Yamaha DTX452K.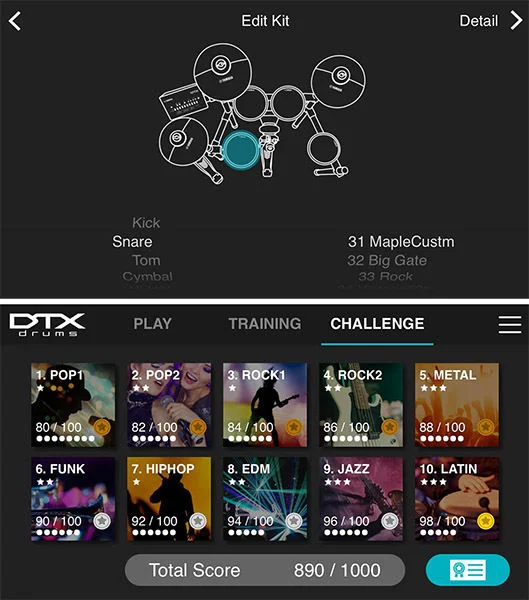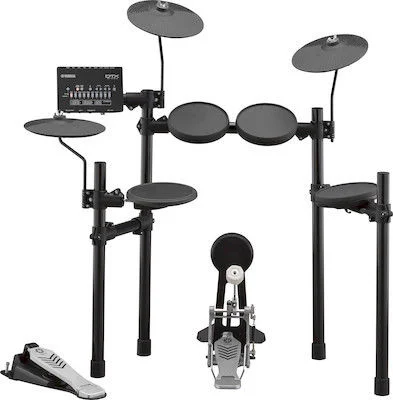 Yamaha DTX452K 5-piece Electronic Drum Kit Features:
The latest addition to the DTX400 Series
Immersive stereo drum samples
10 preset drums kits — can be edited and overwritten
415 onboard drums/percussion/keyboard sounds
10 play-along songs
10 training functions: build chops, check timing, improve stroke speed, and learn drum notation
9 types of onboard reverb
Metronome and tone generator
Stable 4-post rack stand
Responsive rubber pads
Chokeable cymbals
Audio and MIDI over USB
Advanced features and kit building within the free DTX402 Touch app (iOS/Android)
Share YouTube-ready drum covers via the free Rec'n'Share app (iOS only)
Tech Specs
Total Number of Pads:

5 x drum pads, 3 x cymbal pads

Included Snare/Tom Pads:

1 x 8″ Snare Pad, 2 x 8″ Rack Tom Pads, 1 x 8″ Floor Tom Pad

Included Kick Pads:

Kick Pad

Included Cymbal Pads:

1 x 10″ Hi-hat Pad, 2 x 10″ Cymbal Pads

Included Drum Module:

DTX 402 Module

Number of Drum Kits:

10

Number of Instruments:

287 Drum/Percussion Voices, 128 Keyboard Voices, 10 Songs

Effects:

9 x Reverbs

Module Trigger Inputs:

8 x 1/4″ (drum/cymbal), 1 x 1/4″ (hi-hat control)

Module Analog Inputs:

1 x 1/8″ (aux in)

Headphones:

1 x 1/4″

Module MIDI I/O:

USB

USB:

1 x Type B

Software:

DTX 402 Touch App (iOS/Android), Rec'n Share App (iOS)

Included Hardware:

9-channel Snake Cable, FP6110A Kick Pedal, 4-post Rack Stand, Hi-hat control pedal

Manufacturer Part Number:

DTX452K